Aztec Love Song for Uprooted Flowers
I carry them to your house on my back,
uprooted flowers.
I am bent double with the weight of them,
of women torn from the soil, their roots mud
stem and sepal crushed
I carry them. I carry their scent, the scent of ash
and blood in my blood.
Bent double with the weight of their fragility,
buds unopened, roses full-blown
discarded, trampled on
I carry them.
Their flower faces sit: geranium,
harebell, meadow-sweet,
in my classroom in this prison,
foliage fluttering in the breeze
from the barely open window
I carry the leaf of them,
bent double with the weight
of what we do to them,
how we punish and incarcerate
condemn to iron fallen blossom, uprooted
flowers I carry them
on my back, to your house.


Avril Joy is currently writing a sequence of poems about her time working in a women's prison. One of these 'prison' poems, Skomm, won the 2019 York Mix poetry competition. Find out more at www.avriljoy.com
Read More
Bird on a Branch
A bird poised on a branch
asked the moon lover
for the number of lives
she had left
before she died.
She plumed her feathers
like a canopy
& tried to breathe free.
The smog was thick
the drone was loud
& the current of sound
raged against her lustrous trill.
Rebecca Ruth Gould's poems and translations have appeared in Nimrod, Kenyon Review, Tin House, The Hudson Review, Salt Hill, and The Atlantic Review. She translates from Persian, Russian, and Georgian, and has translated books such as After Tomorrow the Days Disappear: Ghazals and Other Poems of Hasan Sijzi of Delhi (Northwestern University Press, 2016) and The Death of Bagrat Zakharych and other Stories by Vazha-Pshavela (Paper & Ink, 2019).
  Website: https://rrgould.hcommons.org/
Read More
Sometimes when there an abundance of excellent poetry to chose from, the IS&T Pick of the Month is the one that has the most power to move voters and so it is with 'Vital Signs' by Emma Baines. When you read comments such as 'the most beautiful, heart rending poem ever' and 'it is an uplifting poem, simple, direct and moving' – and these are just two of the many you will see below – you really do see the effect of this amazing work.
Emma has been writing for many years and published poetry in magazines and journals including The Lampeter Review, Roundyhouse, Cambria and POEM. In 2011, she edited and contributed to The Month had 32 Days, published by Parthian and has read at festivals and events including the Laugharne Weekend. She also travelled to Ireland on the Coracle literary exchange. Emma has has translated work (from Welsh to English) for Menna Elfyn and her own writing has recently been included in installation by glass artist Linda Norris. This year, she has co-founded a writers group in Pembrokeshire and is currently facilitating poetry workshops to create films based on the Women of West Wales for Llangwm Literary Festival.
Emma has asked that her £10 'prize' be donated to the breast cancer awareness charity CoppaFeel!
Vital Signs
We laughed,
in spite of the darkness,
at the circles around your eyes.
and you rolled them
over hand-knitted hats
in the chemo ward,
to cover things we tried to hide.
when I shaved your head
and the last of your hair
fell in your lap, you beamed.
as I showered you,
fresh from surgery,
and you carried your drain
in a floral bag; we joked.
when you unzipped a new breast;
pocketed a new you,
we poked fun at all things false.
but when you smiled from the scanner
a truth was told:
how your bones glow
is beyond the measure of science.
now life is given
its last chance to impress you,
from the bottom of us;
we laugh.
Voters' comments included:

This poem gets my vote because of its tenderness, the light it shines on love and intimacy. It tells the dark light as Kei Miller would say.
A poem with great feeling, understanding, compassion and warmth.
The light touch of the language contrasted to the subject. It reads as a poem for me.
A very insightful, accessible poem. It has an optimism and strength associated with the sufferers of this sad condition.
It's such a moving poem — one that everyone can recognise but as it draws to a close it reaches a new realm of love beyond the detritus and heartbreak of lives
Shows complete empathy of a very difficult situation.
Its a beautiful poem, written from the heart, and made me feel that I was there…
The exquisite sensibility and sensitivity of the writing.
Not only through her writing she's beautiful inside and out. She written for years, but just needs to be noticed for what she's amazing at doing! She deserves this.
Such an endearing poem representing a journey had by so many. Inspiring and heartfelt
Beautifully written as an expression of a truly difficult time emotionally.
Because this is a sensationally beautiful poem about a difficult and emotive subject.
A wonderful poem born out of sadness but with a strong message of hope and love.
It's touching and sensitive but also has warmth, humour and humanity in it. Loved it.
This poem is just so beautiful and well measured between the mundane and the profound. I will not forget it.
Emma's poem is tender and strong at the same time. She uses words beautifully to express intimacy and love in what can be one of the most dehumanising and stressful of situations.
A sharp and compassionate poem, and, what is more, a good one.
Read More
Staying Put
When you stick around for long enough,
you get good at being in a place.
You know the best secluded spots
where you can watch stars or sunbathe on a rock,
letting sunbeams soak through all your senses
while you kiss or make flat stones play hopscotch.
You know the best obstacles to climb and then surmount
when all the spotlights of the street hum on
and all the darkest corners in which to crouch
when cops come patrolling in the park.
You know there's discounted bread on Thursdays
at the corner bakery up the hill
and which cafe has the nuttiest coffee
that you can sip leaning over the window sill.
You get good at knowing there's an elsewhere
but not straining for its arrival.
Julia Gibson is a Toronto-based poet and engineer. Her first book-length collection of poems, Two Doors, will be published in summer 2019 by
Read More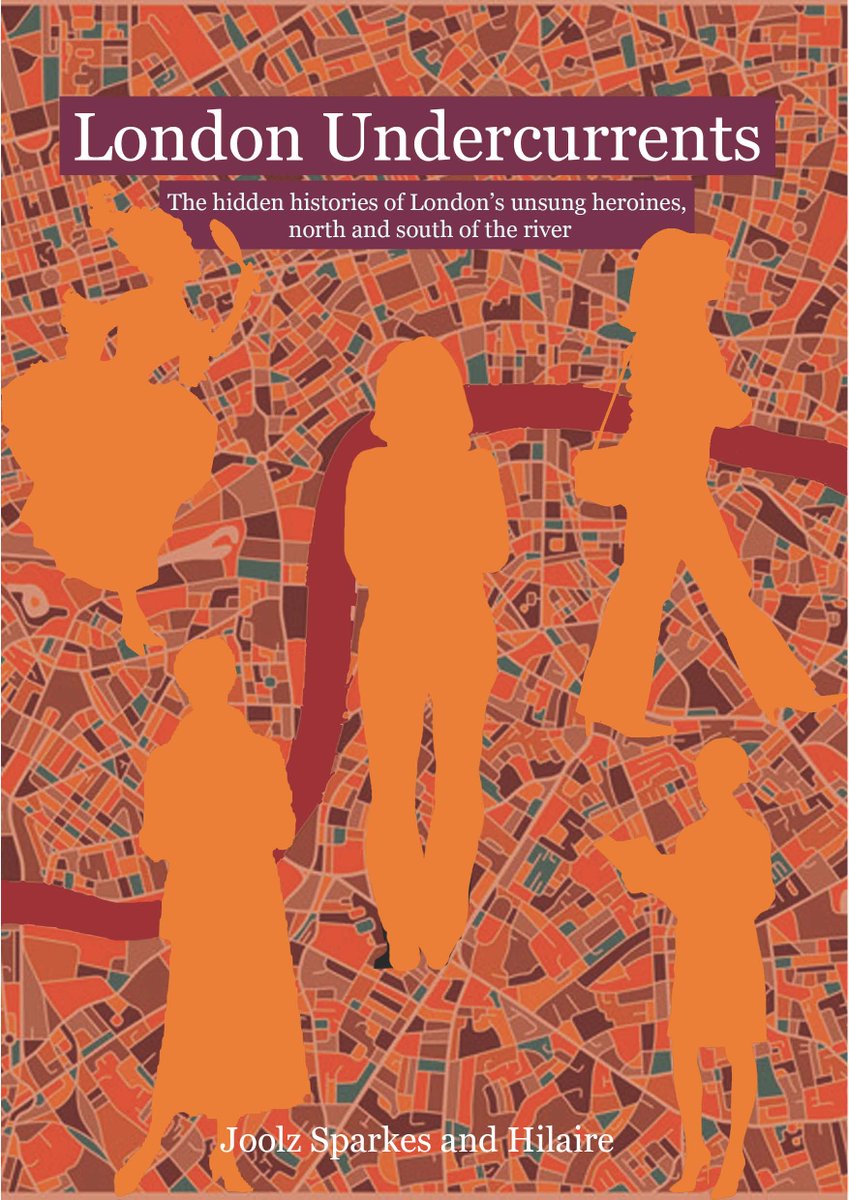 For five years, Hilaire and Joolz Sparkes have been on a mission to excavate the hidden histories of London's long-forgotten women and celebrate their lives in poetry. Thanks to in-depth archival research (partly funded by an Arts Council Grant) London Undercurrents offers a cornucopia of female experience across four centuries, from spirited cockneys and land girls, to factory workers and women in service. The result is both fascinating and educational.
The poems speak clearly from each page in generous point size, with only a letter S or N to indicate the poem's provenance. For the curious, Joolz Sparkes has written the north London poems, and Hilaire, the south-of-the-river poems. But it's quite possible to relish these stories without needing to attribute authorship. It's a truly collaborative project – not just between two poets, but across time, and between each poet and her subject.
I decided to read the poems right through without interruption. They flowed, dare I say it, like the river that runs through the whole collection.  Reference notes at the back are handy. Some are small prose poems in their own right. Others reveal the journey the poet took to find her subject. A few divulge shocking information. Coining money was a capital offence, for example, but I had no idea that male counterfeiters were hanged, whilst their female counterparts were burned at the stake.
So what of the poems themselves? They are largely free-verse, with a handful of form poems, including a classy villanelle about a missionary wife; a delightful concrete poem across two pages which 'shows' a tightrope walker crossing the Thames; a ballad in rhyming quatrains about a gypsy encampment; and two sonnets about work in a fountain pen factory.
Many of the poems carry the rhythms of natural speech, creating a deceptive simplicity that is wholly appropriate to their subject matter. Mostly they're written in the first person.
A French Huguenot plants asparagus in 'First Crop' – "fervently/ larding the beds/ with manure, praying/ for engorgement/ embonpoint." In 'Sacked', a girl who "never pilfered, never dibbed/ a wet finger in a sugar bag/ for a sneaky suck," is caught dancing the Charleston on the worktops of Cook's Confectioners.
The sheer escapism of cinema is captured in the aspirations of a 40s housewife in 'Hollywood' Comes to Holloway': "I'll style my hair like Joan's, drape over/ the settee bought on HP, dream of the man/ who doesn't leave his socks on the floor/ or try it on when he's back from the boozer."  'Dido Belle Sits for Her Portrait' introduces one of the black women to feature in this collection: "Father shipped me/ half-slave, across/ waves of guilt." Dido, the natural daughter of a slave owner, is "full-placed/ in an artist's/ composition yet/ kept at the edge/ of the real canvass."
There's fun too – plenty of it. The 'Lady Cyclist' in Battersea Park, circa 1895, cares "not a fig/ for my flushing cheeks/ my runaway hair/ the flash of azaleas/ nor the gentlemen who stare."  And there's rebellion under the surface in 'Clippie, Top Deck': "I won't be cooped below stairs/ when I've had the run of London. . . .Whatever peace brings, from here on in/ I'm polishing nothing but my own boots./ Step up now./ Hold tight./ Ding ding! Ding ding!"
Some poems tell a tough tale. In 'Cat and Mouse' a suffragette waits "to cast off knee welts, for gums/ to bud skin torn by metal jaws." The brilliantly titled 'Marking The Sheets' offers us a 13 year old apprentice laundress who spends 9 hours a day stitching household codes into sheets, then finds her own sheets marked "for the first time, a fistful of cramp/in your belly, staining the sheets,/ helpless to staunch the flow."
Back-street abortions, lead poisoning, sit-ins by Gujarati workers, frost fairs on the Thames, 18th century lavender harvests, knitting for the Spanish Republicans – wherever women have tilled, toiled, laughed, suffered or survived, Hilaire and Sparkes follow, with empathy and imagination.
Very occasionally the vernacular tips towards cliché, but capturing speech patterns across 400 years is no easy matter.  The poets have tapped into a rich array of character and circumstance and transformed it, with exuberance and clarity, into poetry which is fresh and accessible. The design is vivid and inviting – and at £10, London Undercurrents is surely ludicrously good value. Exactly the kind of book you can give friends and know it'll be a hit. That's Christmas sorted, then.
Claire Booker lives in Brighton. Her poetry pamphlet Later There Will Be Postcards is out with Green Bottle Press ((www.greenbottlepress.com/our-books).and her work has appeared in Ambit, Magma, The Rialto, The Spectator and Stand among others. She blogs at www.bookerplays.co.uk
More details about London Undercurrents and copies of the book are available at www.hollandparkpress.co.uk
Read More
Bear hunt
The mistake was leaving the window open
an exit to fly to the forest
at the moon's invitation
and track the smell
on the sweat from the firs.
Is she hiding tonight?
Or following in circles
there's a meaty breath at my neck,
I run until waking
back on the floor of the bedroom
plastic sword in my hand,
soil on my fingers.
After living in a Moscow and London John Porter is now in Gloucestershire. He has degrees in Russian and Law and when not juggling his two small sons he writes poems, usually on trains. His work has appeared in  magazines including The Stinging Fly, Prole, Marble, Streetcake and Strix. Website https://www.johnporterauthor.com/
Read More