Staying Put
When you stick around for long enough,
you get good at being in a place.
You know the best secluded spots
where you can watch stars or sunbathe on a rock,
letting sunbeams soak through all your senses
while you kiss or make flat stones play hopscotch.
You know the best obstacles to climb and then surmount
when all the spotlights of the street hum on
and all the darkest corners in which to crouch
when cops come patrolling in the park.
You know there's discounted bread on Thursdays
at the corner bakery up the hill
and which cafe has the nuttiest coffee
that you can sip leaning over the window sill.
You get good at knowing there's an elsewhere
but not straining for its arrival.
Julia Gibson is a Toronto-based poet and engineer. Her first book-length collection of poems, Two Doors, will be published in summer 2019 by
Read More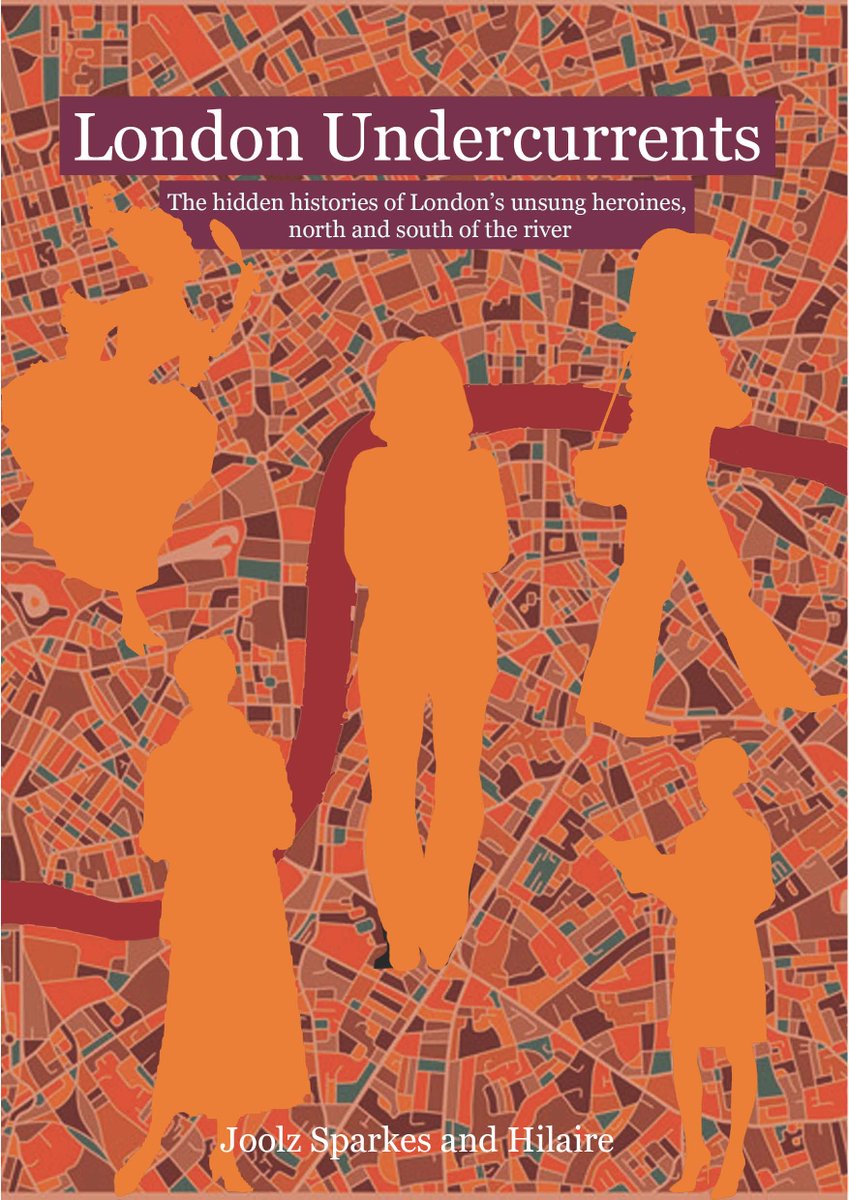 For five years, Hilaire and Joolz Sparkes have been on a mission to excavate the hidden histories of London's long-forgotten women and celebrate their lives in poetry. Thanks to in-depth archival research (partly funded by an Arts Council Grant) London Undercurrents offers a cornucopia of female experience across four centuries, from spirited cockneys and land girls, to factory workers and women in service. The result is both fascinating and educational.
The poems speak clearly from each page in generous point size, with only a letter S or N to indicate the poem's provenance. For the curious, Joolz Sparkes has written the north London poems, and Hilaire, the south-of-the-river poems. But it's quite possible to relish these stories without needing to attribute authorship. It's a truly collaborative project – not just between two poets, but across time, and between each poet and her subject.
I decided to read the poems right through without interruption. They flowed, dare I say it, like the river that runs through the whole collection.  Reference notes at the back are handy. Some are small prose poems in their own right. Others reveal the journey the poet took to find her subject. A few divulge shocking information. Coining money was a capital offence, for example, but I had no idea that male counterfeiters were hanged, whilst their female counterparts were burned at the stake.
So what of the poems themselves? They are largely free-verse, with a handful of form poems, including a classy villanelle about a missionary wife; a delightful concrete poem across two pages which 'shows' a tightrope walker crossing the Thames; a ballad in rhyming quatrains about a gypsy encampment; and two sonnets about work in a fountain pen factory.
Many of the poems carry the rhythms of natural speech, creating a deceptive simplicity that is wholly appropriate to their subject matter. Mostly they're written in the first person.
A French Huguenot plants asparagus in 'First Crop' – "fervently/ larding the beds/ with manure, praying/ for engorgement/ embonpoint." In 'Sacked', a girl who "never pilfered, never dibbed/ a wet finger in a sugar bag/ for a sneaky suck," is caught dancing the Charleston on the worktops of Cook's Confectioners.
The sheer escapism of cinema is captured in the aspirations of a 40s housewife in 'Hollywood' Comes to Holloway': "I'll style my hair like Joan's, drape over/ the settee bought on HP, dream of the man/ who doesn't leave his socks on the floor/ or try it on when he's back from the boozer."  'Dido Belle Sits for Her Portrait' introduces one of the black women to feature in this collection: "Father shipped me/ half-slave, across/ waves of guilt." Dido, the natural daughter of a slave owner, is "full-placed/ in an artist's/ composition yet/ kept at the edge/ of the real canvass."
There's fun too – plenty of it. The 'Lady Cyclist' in Battersea Park, circa 1895, cares "not a fig/ for my flushing cheeks/ my runaway hair/ the flash of azaleas/ nor the gentlemen who stare."  And there's rebellion under the surface in 'Clippie, Top Deck': "I won't be cooped below stairs/ when I've had the run of London. . . .Whatever peace brings, from here on in/ I'm polishing nothing but my own boots./ Step up now./ Hold tight./ Ding ding! Ding ding!"
Some poems tell a tough tale. In 'Cat and Mouse' a suffragette waits "to cast off knee welts, for gums/ to bud skin torn by metal jaws." The brilliantly titled 'Marking The Sheets' offers us a 13 year old apprentice laundress who spends 9 hours a day stitching household codes into sheets, then finds her own sheets marked "for the first time, a fistful of cramp/in your belly, staining the sheets,/ helpless to staunch the flow."
Back-street abortions, lead poisoning, sit-ins by Gujarati workers, frost fairs on the Thames, 18th century lavender harvests, knitting for the Spanish Republicans – wherever women have tilled, toiled, laughed, suffered or survived, Hilaire and Sparkes follow, with empathy and imagination.
Very occasionally the vernacular tips towards cliché, but capturing speech patterns across 400 years is no easy matter.  The poets have tapped into a rich array of character and circumstance and transformed it, with exuberance and clarity, into poetry which is fresh and accessible. The design is vivid and inviting – and at £10, London Undercurrents is surely ludicrously good value. Exactly the kind of book you can give friends and know it'll be a hit. That's Christmas sorted, then.
Claire Booker lives in Brighton. Her poetry pamphlet Later There Will Be Postcards is out with Green Bottle Press ((www.greenbottlepress.com/our-books).and her work has appeared in Ambit, Magma, The Rialto, The Spectator and Stand among others. She blogs at www.bookerplays.co.uk
More details about London Undercurrents and copies of the book are available at www.hollandparkpress.co.uk
Read More
Bear hunt
The mistake was leaving the window open
an exit to fly to the forest
at the moon's invitation
and track the smell
on the sweat from the firs.
Is she hiding tonight?
Or following in circles
there's a meaty breath at my neck,
I run until waking
back on the floor of the bedroom
plastic sword in my hand,
soil on my fingers.
After living in a Moscow and London John Porter is now in Gloucestershire. He has degrees in Russian and Law and when not juggling his two small sons he writes poems, usually on trains. His work has appeared in  magazines including The Stinging Fly, Prole, Marble, Streetcake and Strix. Website https://www.johnporterauthor.com/
Read More
Alchemy of sleep
When night turns to ice, and where
walls turn to rain turn to sea, after
half light turns to day dark, and where
beds turn to urns and time turns to you,
and sky turns to dust. Where door opens
to field, and wild fear turns to white gold.
Come morning, train times unravel
hairlines yet the day still snores, and
you bear the cold war of your dream.
Leah Larwood is a freelance writer and trainee hypnotherapist living in Norfolk. She's working on her debut poetry pamphlet, Awake when sleeping.  She was Runner-Up in the Poetry Society Stanza Competition 2018 (Suffolk) and has been shortlisted several times by various competitions.
Read More
Composition 10/ Pier and Ocean – Piet Mondrian
a peeled eye prickling
turned to the outside
I am already here
underknowledge poking through
I itch with the shame of it
follicles exposed
how dare you (paint this)?
clustered struts stand close and closer
hinting at a curve and even softness –
but this is not comfort
each reed stands cold and solitary
white water freezing in between
I crave to throw a coat over it
Rachel Goodman was formerly a mime artist, actor and BBC presenter. She moved back to her native Norfolk 25 years ago to raise a family and to write. She is a graduate of the UEA Creative Writing MA 2017/18. She is a keen gardener and sea swimmer.
Read More

Louche Old Man in Tartan Trousers
Swaggering up Upper St
Denim jacket
Wild grey hair
70 if a day
Heading to the Hope and Anchor?
Dragging on a Soubrani
What have you lived through?
Slick liner eyes
Satin snake drooped round your neck
Slithering on stage in the 70s?
Then pinned and studded
The trousers strap-legged
Hanging with Viv and Malcolm?
Bassist in a dozen bands?
Popping pills sporadically?
Bowery and you always in at Taboo?
First at the Dirtbox?
Beatifically smiley Ibiza parteees?
All night up in Heaven?
Tatted and pierced beneath?
Soho clubs? Muse to Lee McQueen? East end art collective? GQ Stylist? Spoken word rap poet?
And when you were with all
Your lovers, partners, friends
Did your cool always keep you warm at night?
And in the day?

Vivien Thomason has recently retired and resumed writing poetry after 40 years of having her creativity totally sapped by the fashion industry. She is particularly focused on themes of family, feminism, art and nature. This is her first submission ever.
Read More
Invigilation
In fifty years there'll only be the
sanitised versions, adaptations
printed in school text-books, papers
analysed to death by academics;
another chapter of our dubious past
to be studied, scrutinised, peer-reviewed,
no emotion, no regret, no tears.
Hindsight will by then be clear, unbiased,
conclusions coldly logical; exam scripts
marked impartially to strict criteria:
To what extent…
Evaluate…
Contrast, and then compare…
And the memories of those who
actually were there, who voted,
battled, marched, or wish they had,
will then be gone or half-forgotten –
misremembered, some will say –
as hard-won calm and harmony
becomes again the only way to live.
Most young will scarcely recognise
their ancestors' self-ruin, nor truly grasp
the reasons for the wrath that followed.
Instead, in sterile, silent school halls all
our madness will be written out in
three fast-flowing hours, new futures
now dependent on our past:
What were the causes of…?
What role did politicians play…?
How do we stop seeds of hate
thought dormant to re-germinate;
begin to sprout again like
choking, grotesque weeds.
Discuss.
Ruth Kelsey studied creative writing at the University of Leeds. She's often found at spoken word events in the Leeds area, and has recently had work published in Check Hope Remains (125th & Midnight).
Read More