Konstandinos Mahoney's debut collection fizzes with joie de vivre. Though it doesn't flinch from the difficult, even the tragic, it's sexy and life affirming: rich in sensual detail, acute, precisely, expressed observations all underpinned by a wry wit. In Ladyboy 'A woman's face and form, bar one small detail,/smooth legged she strides along the Silom Soi.' In Night Market 'mosquitos hum and whine, a soft voice purrs,/"Girl sir, want girl? Young girl? Boy Sir? Opium?"'
Tutti frutti  jostles with memorable personalities; their multilingual voices subtly conjured  or directly present in the text. There's Aunt Aphrodite: 'Mum's spoons start disappearing./she's stuffing them down her drawers," dad says;/In her defense, I say, "she doesn't wear any" (Aunt Aphrodite); the woman speaking with 'martinet briskness,' (Ring, Ring); the Reverend Doctor 'how empty the bottle has become/how he'll fetch another one. (An Evening with the Reverend Doctor); the child whose 'words sprout in her mouth like milk teeth (Six Hundred) and the crazed voices of Dr Mirabilis and the Brass Wall That Will Save England "et nunc et semper, amen" an owlish friar drones/(while taking selfies for his Instagram)'
Mahoney's geography is equally specific and vividly conveyed: 'a council flat off the Lillie Road,' ' a grand house in Kononaki', 'the dark Mekong', 'the slopes of Canlaon Vulcan,' 'In Montreal our hostess, gives a Gallic shrug.' Such details  evoke both a powerful sense of place and an awareness of the transience of experience: the poet is one place then another. The world of this collection is broad and the poet seems to share an adventurous restlessness with his mother who in Athena Nike  '… conjures Smyrna in flames, flight to Alexandria, Athens in the occupation, liberation,/civil war, and English soldier, love, London, me,'. Here, Mahoney's use of a list helps to telescope then expand time within the poem.
Elsewhere, repeated emphasis on single details distils the essence and striking singularity of events, people and places so that they live on the page. Mahoney implies, with great economy, a vibrant sensory hinterland within each poem: in The Alexandrian the eponymous hero has ' sex with sailors, waiters, stevadores,/muscled torsos, alabaster,/ideal bodies, olive skin,/mechanic's grease, sweet jasmine'. A merchant seaman passes stalls: 'With pomeo, pak choi, bitter melon;/shops stocked with jars of fungi, penis/horn…' inn Aberdeen Street. In Maenad 'she sets off tout de suite in triple time/Bourree, valeta, mazurka, tarantella' a line which itself trip sat a dancing pace. This technique is nowhere more successful than in  After access where Mahoney's use of the concrete creates both humour and pathos through careful juxtaposition: 'an abandoned sandwich/small crescent bit/[…]/spell in a bucket/yipped down the sink/man on sofa/stiff drink'
The poems shift in mood and tone but are unified by Mahoney's sharp eye for the absurd, the telling detail and the incongruous. In Ladyboy ' She lip-synchs Whitney at the Colosseum,/The songs she sings to me are out of tune,'.
Vampire Madonna ends ' Once, on a Greek island, I saw a woman call her son/from the sea, "Kostaki! Kostaki!"/He waded out, balding, pot-bellied, hair-chested,/and she wrapped him in a towel and led him away.'
These are poems in which Christmas tree are amputees, 'Stripped bare, peg-legged, balding,'(Twelfth Night,) where bees are 'Bright as soft chips off a tiger's back' ( Beeze,)
where Cherry blossom 'Comes sudden as ecstatic foam/that blooms on epileptic lips.' It is a collection full of unexpected turns as well as poems that tremble with desire and loss.
The earliest poems  in tutti frutti deal with burgeoning sexual desire then move on to familial relationships, death and the loss of relationships. Emotion is measured, often ambivalent but all the more powerful for that:
'Holed up in his room, the son,
Too scared to get close,
To look upon in an iron god in rust,
Wary of unknotted tongues,
The crippled tenderness
That still might show.'
(Death of Poseidon )
'He gave me my values,' she whimpers,
Dabbing moist eyes,
Next morning, they leave –
Earlier than planned.
Car turns the corner.
Gone.
(His Values)
tutti frutti is as affecting as it is exuberant, the writing as meticulous as it is surprising: a scintillating  and powerful debut.
Dr Nick Browne has taught creative writing at Oxford University ( Continuing Education) Arvon, the British Council and a number of other universities. In addition to publishing short stories and poetry, Nick has published nine novels with Bloomsbury.
Order your copy of tutti frutti (SPM publications)  by Konstandinos Mahoney here: http://www.spmpublications.com/shop/tutti-frutti-konstandinos-mahoney.html
Read More
'It was just lying here
the poem, the dream
by the window sill'
These verses, from 'After The Recital', illustrate 'Patina's' atmosphere: life is contingent, magical. Poetry tries to catch that, but is itself strange and hard to find. The poet must be ready –
'if we don't write it this minute
we will never write it' ('Ellipsing, Elapsing').
The poems address a core of concerns, expressed in concise language, using what we can see and feel to suggest what may be impossible to state. In, 'It was in May ..', a narrative of loss and sorrow is contained in two lines:
'The day the gutters overflowed
I left Kotapuram Port'.
Employing images to express emotion the poem indicates what happened, ('The long brown train awaited the flutter/ of the guard's green flag') and ends by accepting that our needs will not be noticed by time and change:
'It was in May. The sky poured. The gutters overflowed.
I left Kotapuram behind. The trains ran on time.'
This shows why Kavita is a prize-winning author of short fiction as well as a poet. Reflections on leaving and departure are also the subject of other poems: in 'Kabariwala'  a young man, who makes a living collecting materials for recycling says he is, 'Going foreign', where there is, 'free love .. probably England'. He is happy to escape, but in 'Where Home Was' another aspect of emigration is considered: a ceiling fan becomes a metaphor for how leaving home and community is an irrevocable separation, 'nomads have freedom, if no home .. because the voyage is endless':
'In the whirring blades of this fan
My future was glimpsed; sliced ..
.. I saw clearly that I would leave
The past would be segmented; diced'
Elsewhere it is not only the émigré who has no home: all of us are only here briefly, something we must defy and embrace –
' .. our world will drown you
burn you, bury you ..
.. when you bow your head the earth
won't grant you forgiveness ..
.. The nomads of the desert remember
and they kiss the ground ..
before stamping hard on it to dance.'
(From 'Such a thing as a cloud ..')
And 'Capilano Bridge' describes the terrifying, exciting experience of crossing a swaying suspension bridge, showing we must face the chasm of death, 'The wintry canyon below waited for us to fall' .
Several poems consider women's experience. The poet uses wry observation in 'Beach Apparel', and in 'Piccadilly Line Salon' three women doing their make-up on the tube, ' .. peer, pout, slick, flick/ they are good; they are quick', prompt the narrator to worry about her own, post-breakfast appearance. 'Faucet' also starts humorously, 'A woman/ may buy a tool-kit and know how to use it', but is then indignant at how women are treated in Saudi Arabia and the Punjab. (See also, 'For You Who Wave 'Women For Trump' Placards'!)
The tone in 'Faucet' remains ironic and cynical but becomes enraged in 'Katra', about two sisters murdered by being hung 'from the mango tree'.
'My sisters
don't forgive
bequeath your souls to the breeze
so the perpetrators hear you
carrying with them always
your unforgiveness.'
There is something of Shelley and Plath here  – vengeful, righteous fury.
Great care is taken over structure: a variety of stanza forms, using blank space, rhyme and half-rhyme and as few and precise words as possible, make a fine collection of elegant, forceful lyrics.
One of the most moving poems is 'My Birth Telegram', in which the writer's father learns about his daughter's birth, expressed in a code agreed with his wife:
'If it's a girl she'll be a poem, a white bloom ..
At sea, he received the news on board.
THE WHITE ROSE ARRIVES STOP
POETRY THRIVES STOP'
A note explains, 'Kavita' means 'Poem' in several Indian languages'. And poetry does arrive in the world with 'Patina'.
Chris Hardy's poems have been published widely, some have won prizes. His fourth collection is 'Sunshine at the end of the world' (Indigo Dreams). He is in LiTTLe MACHiNe. "A guitarist as well as a poet Chris Hardy consistently hits the right note". Roger McGough.

Order your copy of Patina by Kavita A. Jindal (the wind in the trees, 2019) here: http://www.thewindinthetrees.com/
Read More
Chagall's Circus is set out in five sections with poems alternating between pristine tercets that give each stanza room to breathe, and relatively short blocks of text in contrast.  Poems are headed by quotations from Chagall's autobiography 'My Life' (1923), and facilitate the storytelling.
Chagall, in his long life, experienced some of the most dramatically troubled periods of history.  Bedford writes of it boldly, slipping seamlessly into the painter's voice.  The poems are never simply descriptions of the paintings; but are set within history and biography.
In the opening poem, Self-Portrait with Brushes (1909), Bedford has extracted the painter's shtetl childhood, incorporating images:  the flowers, the cow, the fiddler, that run throughout Chagall's art  — All the poetry of life glows in sadness,
and his (father's) silence is a forest of imagined flowers,
like the cow sleeping on the roof of our barn,
the fiddler leading the bride to her wedding.'
The second poem-painting, Grandfather's House (1923) is of a child-like sketch of a house, with two windows.  The voice is Chagall's, a boy experiencing the vibrant world around him:
I spent my childhood devouring horizons,
seeing angels in the pattern of the carpet.
but warned 'of the hunger hiding in colours, / the graveyards at the end of rainbows.' Bedford unpicks the folkloric mythology Chagall created of his childhood in Vitebsk, his vibrant colours in marked contrast to the grey reality of poverty and fear experienced by Shtetl Jews.
The poem, Red Nude Sitting Up (1908), references Chagall's romantic and sexual awakening:
my canvas was all nipples and angels
and despite the wild nights of St Petersburg
I painted my red nude sitting in Vitebsk.
All roads, inevitably, lead back over his shoulder to Vitebsk.
In the final lines, Bedford is the painter 'covering the canvas in a horse blanket / to protect the villagers from their own fear,' noting that his family 'always preferred photographs.'  One recognises the stiff family portraits of that period.
In section 2, 'The Paris Years', the poet-painter takes on the art establishment labelling Chagall's work against religion and poverty as 'surreal.'
Yes, the man has the head of a bull,
and the girl wraps herself round his shoulder.
You can see that any night in Montmartre, (To my Betrothed, 1911)
In the following poem, I and the Village (1911), Bedford builds on its epigraph: 'But perhaps my art is the art of a lunatic:' He writes: 'My clownish inner world was all I needed …
I have collected these fragments from my dreams
the paintbrush fingering clouds' (ah, fingering clouds!)
concluding with: 'The poet naming what the painter painted. (the poet here, Chagall's-friend, Blaise Cendrars)
That was not what I meant at all
My art may be the art of a lunatic,
but Surrealism is only the name of an era.
I love the way the poet Cendrars acts as a counter-balance between the poet Bedford and the painter in critiquing the process between art and poetry and art.  The effect is of a history of history within a history of art where politics, religion and love make up the Chagall circus:
But I had the Louvre inside me. The Fiddler
became The Praying Jew, the praying Jew
became The Smolensk Newspaper,
The Feast of Tabernacles became my feast. (The Fiddler (1912-1913)
The penultimate poem, Couple on a Red Background, references the painter's second marriage to Valentina Brodsky.  Bedford uses some lyrical description: 'The man is tenderness, / his arm, the arm of nature's protection,
The painter-poet voices join in unison, leaving us with 'Stalin fiddling with his black moustaches, / Hitler saluting the gods in his mind.'
This collection is a banquet for the senses, which in other hands than Bedford's, could be overwhelming.  That it is not, begins with the poet's skill in setting up a sound, containing layout.  The narrative, no matter how intense and detailed in its content, tells the story of a life with grace and precision.  Here is a book that that can be consumed with relish once and returned to with pleasure again and again.
U.S.-born Wendy Klein has published three collections:  Cuba in the Blood (2009) and Anything in Turquoise (2013) from Cinnamon Press, and Mood Indigo (2016) from Oversteps Books.  She is currently working on a selected and assorted pamphlets.
You can order your copy of William Bedford's, Chagall's Circus, (Dempsey & Windle) here: https://www.dempseyandwindle.com/william-bedford.html
Read More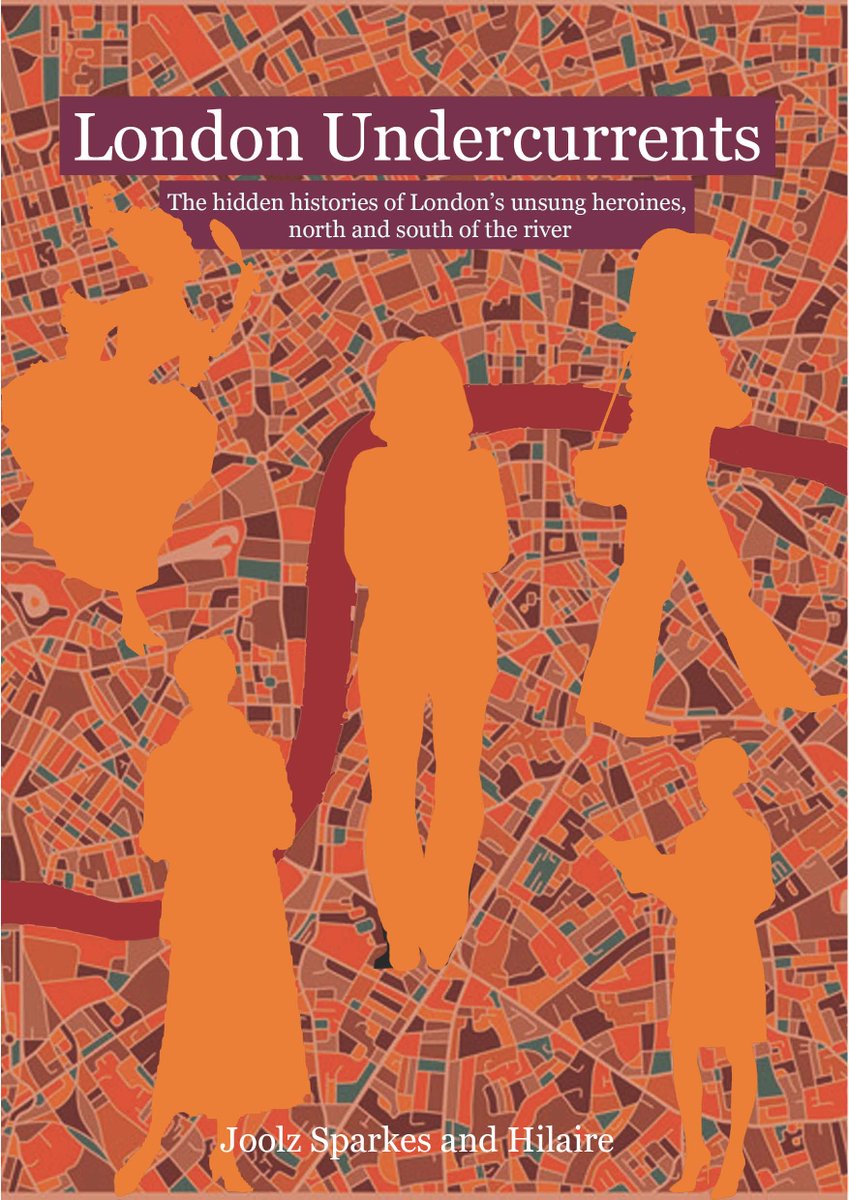 For five years, Hilaire and Joolz Sparkes have been on a mission to excavate the hidden histories of London's long-forgotten women and celebrate their lives in poetry. Thanks to in-depth archival research (partly funded by an Arts Council Grant) London Undercurrents offers a cornucopia of female experience across four centuries, from spirited cockneys and land girls, to factory workers and women in service. The result is both fascinating and educational.
The poems speak clearly from each page in generous point size, with only a letter S or N to indicate the poem's provenance. For the curious, Joolz Sparkes has written the north London poems, and Hilaire, the south-of-the-river poems. But it's quite possible to relish these stories without needing to attribute authorship. It's a truly collaborative project – not just between two poets, but across time, and between each poet and her subject.
I decided to read the poems right through without interruption. They flowed, dare I say it, like the river that runs through the whole collection.  Reference notes at the back are handy. Some are small prose poems in their own right. Others reveal the journey the poet took to find her subject. A few divulge shocking information. Coining money was a capital offence, for example, but I had no idea that male counterfeiters were hanged, whilst their female counterparts were burned at the stake.
So what of the poems themselves? They are largely free-verse, with a handful of form poems, including a classy villanelle about a missionary wife; a delightful concrete poem across two pages which 'shows' a tightrope walker crossing the Thames; a ballad in rhyming quatrains about a gypsy encampment; and two sonnets about work in a fountain pen factory.
Many of the poems carry the rhythms of natural speech, creating a deceptive simplicity that is wholly appropriate to their subject matter. Mostly they're written in the first person.
A French Huguenot plants asparagus in 'First Crop' – "fervently/ larding the beds/ with manure, praying/ for engorgement/ embonpoint." In 'Sacked', a girl who "never pilfered, never dibbed/ a wet finger in a sugar bag/ for a sneaky suck," is caught dancing the Charleston on the worktops of Cook's Confectioners.
The sheer escapism of cinema is captured in the aspirations of a 40s housewife in 'Hollywood' Comes to Holloway': "I'll style my hair like Joan's, drape over/ the settee bought on HP, dream of the man/ who doesn't leave his socks on the floor/ or try it on when he's back from the boozer."  'Dido Belle Sits for Her Portrait' introduces one of the black women to feature in this collection: "Father shipped me/ half-slave, across/ waves of guilt." Dido, the natural daughter of a slave owner, is "full-placed/ in an artist's/ composition yet/ kept at the edge/ of the real canvass."
There's fun too – plenty of it. The 'Lady Cyclist' in Battersea Park, circa 1895, cares "not a fig/ for my flushing cheeks/ my runaway hair/ the flash of azaleas/ nor the gentlemen who stare."  And there's rebellion under the surface in 'Clippie, Top Deck': "I won't be cooped below stairs/ when I've had the run of London. . . .Whatever peace brings, from here on in/ I'm polishing nothing but my own boots./ Step up now./ Hold tight./ Ding ding! Ding ding!"
Some poems tell a tough tale. In 'Cat and Mouse' a suffragette waits "to cast off knee welts, for gums/ to bud skin torn by metal jaws." The brilliantly titled 'Marking The Sheets' offers us a 13 year old apprentice laundress who spends 9 hours a day stitching household codes into sheets, then finds her own sheets marked "for the first time, a fistful of cramp/in your belly, staining the sheets,/ helpless to staunch the flow."
Back-street abortions, lead poisoning, sit-ins by Gujarati workers, frost fairs on the Thames, 18th century lavender harvests, knitting for the Spanish Republicans – wherever women have tilled, toiled, laughed, suffered or survived, Hilaire and Sparkes follow, with empathy and imagination.
Very occasionally the vernacular tips towards cliché, but capturing speech patterns across 400 years is no easy matter.  The poets have tapped into a rich array of character and circumstance and transformed it, with exuberance and clarity, into poetry which is fresh and accessible. The design is vivid and inviting – and at £10, London Undercurrents is surely ludicrously good value. Exactly the kind of book you can give friends and know it'll be a hit. That's Christmas sorted, then.
Claire Booker lives in Brighton. Her poetry pamphlet Later There Will Be Postcards is out with Green Bottle Press ((www.greenbottlepress.com/our-books).and her work has appeared in Ambit, Magma, The Rialto, The Spectator and Stand among others. She blogs at www.bookerplays.co.uk
More details about London Undercurrents and copies of the book are available at www.hollandparkpress.co.uk
Read More
While I Yet Live begins sudden and bold; the speaker of 'Obit.' Announcing
i will die in London in the neighbourhood
i grew up in…
When the poet writes:
…sweat
-ed tongues and pidgin song to cease
Stumbling is put upon the reader's tongue by the cut of the line. There is an exactness in the handling of the clipped, high 'i's of pidgin and spreading low of 'tongues' and 'song'. I think this balancing act, of speakers always just on the brink of becoming, is in part why the pamphlet is exhilarating. In 'John 19:28', restraint and expanse work in tandem to create an ecstatic feeling. The reader anticipates entire sentences and space on the page denies these, in
of me       please       everything    on me
Only by letting go of expectation and leaning in on loosening syntax can you proceed through the poem. There is a movement forward by relinquishing. I the reader pass through lighter, more motile. With regards to the how the speakers of these poems move, I like how attuned Odubango is to his speakers invoking themselves, often with Biblical urgency. The poet outlines his subjects by writing of these subjects outlining themselves. In
you tar
me so
"you" comes before "me"; the 'I' is dependent on you to begin. These lines are dense with vowels, but none of the same; it is a moment of  differences held together. The gathering of varying things is shown again in 'We'; the self-negating of
talking nothing
but nothing but
brought together under "my own name". There is no shying from contradictions, or falter. It is said because the speaker wants to say. Odubanjo is closely attuned to spoken speech outside poetry; to everyday conversation, and how to bring it through into poetry, inflecting it newly. In 'Ineffable Name', the poet makes "cos" the line's point of orbit, patterning sound around it, just as it turns the line casually.
you don't know no more cos he had your name
The sequence itself is one of differences held together. I am struck by the range of forms. There is the found poetry of 'I'. Here, Enoch Powell's speech is appropriated. It is broken open, into a river that breaks "intractable" from its course. There is the blank verse of 'Watershed', the poem writing its own rules just as the "we" within explores and finds
…cds our parents kept
in cabinets
The poem is studded with detail; the nostalgic texture of "soft carpet on toes", the precise cultural marker of "when michael sang ma makoosa". Blank verse is rendered more sparsely in 'Songs in the Key of Terror'. Repetition beats dynamically amongst this pared-back language, as in
so petite mort
so rumpunchblooded
so in the flesh
In these poems, the speakers seem to exist, suspended, just before they come into singing, and when Odubanjo begins singing through them, these 'I's start to gather themselves into bodies ardent to be alive.
Order your copy of  Gboyega Odubanjo's While I Yet Live (Bad Betty Press)  here: https://badbettypress.com/product/while-i-yet-live-gboyega-odubanjo/
Read More
Duane Vorhees's Love's Autobiography: The Ends of Love comprises of selections from The Many Loves of Duane Vorhees. Apart from the Prologue, the book is divided into three sections titled "Beth", "Jenny" and "Yeobo", with the last section having the greatest number of poems. As the title suggests and the poet himself acknowledges the poems are about the many aspects of love and relationships. But what is so different in writing about love by Duane Vorhees? Duane's poetry is highly steeped in allusions which provide the poems their richness. It is also his craft that catches the readers' attention. The opening poem "Either Alzheimer's of the Lightning" starts like this:
Whizdizzyingly
cruising The Moment,
arrowing past all awareness:
highway, enginewhiine, (p. 7)
Duane employs Joycean syntactical innovations in his poems because a poem is as much, if not more, about expression as communication. His poems display metaphors that make a reader pause and ponder: "The sun is a gong hung low across the sky" ("Another Spring Night In Farmersville, Oho), "Ah! Nights you were a harem/ and I the unmade Bedouin too long in the thirst" ("Ah! Nights") or ":daybreaks are harlots all scarlet and huge with rouge and paste" ("Her Name is Jenny and Many a Morn Has Worn Her Face").
Sometimes he can be sexually explicit in his imagery but in a beautiful way reminding of the metaphysical poets like Donne or Marvell. In the poem "The Beast" the two layers of meanings simultaneously skim in our imagination as we read the lines:
Imagine our bodies in Braille,
finger tongues perusing,
teasing our nuances,
weighing every significance.
We turn over
sheet after sheet.
Each climax foreshadowed,
we read ourselves to sleep.  (p. 24-5)
The poem is as much about making love as it is about poetic creation where the poet makes the reader foreshadow and the lovers reading each other's bodies and the reader reading the lines of the poem into a single act. Sometimes he can be succinct and yet profound as in the poem "Evidence for the Mutational Codependence of Time":
Yesterday
today
was
tomorrow.
& my future
:ours. (p. 44)
This short poem not only convey a sense of loss but also a pathos and more so when the last line comprising of a single word comes as a separate stanza. It is this structuring that makes Duane's poems so potent. He is a serious poet who uses his experiences of love, loss and longing to hone his craft of poetry. In another short poem "Hawked and Doves" he writes "Love is hawked from every ad,/ is sent like doves from all our arks," and achieves in two lines a contrast between the new and the old concepts of love through the allusions to the contemporary and the Biblical and through the imageries of the bird of prey, the hawk and the mild and docile dove.
Duane Vorhees's loves have become his muses and nowhere it is more evident than in his poem "(And) Purple Prose" where he writes:
And I'm just a poet in search of a muse,
just a sea-starved seaman in need of a cruise.
A poet needs a muse to sweeten his songs,
so won't you play sugar if I play tongue? (p. 58)
There is a sort of mercenary-ness in poets who make their loves their muses. Duane is no exception. The duality of being a lover and a poet is sometimes conflicting because it no longer love for love's sake. Now love has more purposes – of inspiration, of stimulus, a sort of utilitarianism is attained. This might not be acceptable to the love-turned-muse who might object to the poet when he says: "For to fill my verse up, rim, barrel, and bung,/ let me borrow your breaths to stuff my lungs." This is the tragedy of the poet and Duane further expresses it with an innovative metaphor:
Poet needs muse to keep his thoughts young.
The muse is the clothesline on which are hung
poet's pants & fancies before they get cold. (p. 58)
This is it. No doubt a melancholy pervades the love autobiography of Duane Vorhees.
Dr. Amit Shankar Saha is a widely published award-winning poet and short story writer.  He has authored a collection of poems titled Balconies of Time. He is an Assistant Professor in the Department of English at Seacom Skills University.
Love's Autobiography: The Ends of Love by Duane Vorhees is published by Hawakal Publishers, and available here: http://www.hawakal.com/books/english-books/loves-autobiography-the-ends-of-love/
Read More
Before I embarked upon writing this review, I had only read the words on the page. However, recently I had the very great privilege of hearing some of the work read by Roy himself at an event in Mid Wales. When I say read, what I really mean is delivered with the gusto of a spoken word artist and the passion of someone who clearly cares deeply about its content. Roy powered his way through the most convincing performance which actually helped me feel the poetry all the better.
The first part of this collection uses the device of listing significant world events from 1999 to more recent times, as a kind of annotated diary McFarlane calls New Millennium Journal, alongside the lives of real or imagined characters referred to as 'the activist' and 'the family man'. The former is presented as a worthy, political type determined to fight prejudice and expose police brutality whilst being a force for change and radical new thinking. The latter is presented as a weak man unable to resist the sexual charms of an adventurous and willing lover. For this cheating husband, "only the gravitational pull of his children draws him away from the black hole of his guilt." Between the two of them, we are escorted through a familiar backdrop, including the fears about the Millennium Bug in 1999, the horror of the attack on the twin towers in 2001, the Boxing Day tsunami in 2004, various football World Cups and the earthquake closer to home in Dudley in 2002. In their different ways, these stand as metaphors for the extraordinary racism blighting our nation during this period. McFarlane unravels this social history in our faces, just as the marriage of 'the family man' unravels and 'the activist' spends "summers in the discomfort of whiteness."
In the second part of the collection, McFarlane lists the names of eighteen black men and women who have died in custody. He uses the constriction of the sonnet form, maybe to echo the constraint used to hold down the detained. He utilises repetition such as "and nobody came" in Orville Blackwood 1999 and the visually graphic "whyyyyy?" as in Shiji Lapite 1994. McFarlane also experiments with the shape of the poem on the page, suggesting a bullet in Cherry Groce 2011 and a winged angel in Mark Duggan 2011. There is wonderfully chilling play on the word 'tape' in Joy Gardner 1993, where McFarlane throws sticky tape, mix tape, tape measure, red tape and even tapestry into the death by suffocation of this victim. The footballing imagery is obvious but still effective in Dailian Atkinson 2016 where "there's no extra time" for the young man who dies. You cannot fail to be moved by this litany of gruesome death, so starkly laid out for us by McFarlane.
In the final section of the book we get the Gospel According to Rasta. Here McFarlane roots the reader in the city of Birmingham. He tells us "in a city of a hundred tongues we should always make room for another one" and he uses dialect to warn us "Dis Rasta rose from the oven-ash of holocaust." McFarlane challenges us to question the cultural and religious elements we surround ourselves with and asks "Dis Rasta is he fiction or truth?" There is more than a suggestion that we need to speak out about all the injustice, "We are the disciples who beareth witness of these things so write, write it all."
Throughout the work there are musical and religious references and the recognition that "every woman is somebody's daughter". McFarlane has clearly researched his material with great purpose and conviction. What emerges is a kind of rage that the new millennium did not bring with it change and justice, but rather hypocrisy and a dangerous, nasty under-current in society. McFarlane makes startlingly effective use of the idea that hands can be "outstretched to help refugees", can be a woman's "hands that worked hard" and a mother placing "her hand on his troubled heart", just as much as hands "holding a rose in a clenched fist".
I would be lying if I said there was much hope in this work, apart from in Gabay of hope which urges us to "breathe." The work is bleak, challenging, angry and exposing. As a relatively privileged white woman living in a rural community, I like many am shielded from these experiences and able to observe them through the lens of the media. McFarlane does something important by using poetry as an unmistakably brutal tool to force me face down and hold me, maybe against my will for a while, where the reality of being black and marginalised is very visceral. I read and enjoyed McFarlane's last book because it was full of humanity, a deeply emotional read. This latest work is wonderful for its change of pace, for coming from a very different but equally real place. I believe this is poetry shouting serious messages at a time of deep uncertainty. McFarlane shows his broad and remarkable technical skill, his passionate and convincing voice and is destined to disturb his way into our conscience. Go and hear him read from this book and you will feel it too.
The Healing Next Time is published by Nine Arches Press and can be ordered here: http://ninearchespress.com/
Pat Edwards is a writer, teacher and performer from Mid Wales. Her work has appeared in Prole, Magma, Atrium and others. She hosts Verbatim poetry open mic nights and curates Welshpool Poetry Festival.
Read More