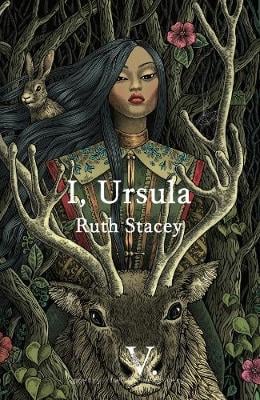 Ernest Hemingway once said "There is nothing to writing. All you do is sit down at a typewriter and bleed". This quote comes to mind when reading I Ursula which comes across like it was written with a fluid and clear idea of what Ruth Stacey wanted to say about the frailties and strength of enduring mental health and life experiences. The cover shows us an astute woman riding a stag and garlanded in all her finery amongst the thick of the woods which already gives the impression of a dark fairy-tale and it is this conjuring that does not disappoint with an exceptional book of quality poems. The opening couple of poems are a caution that woman is a deep river and if you choose to explore her then this like an abyss will stare back at you and could ruin or complete you depending on what you value from a woman. Stacey is a master of deceptive language that haunts you by its lullaby and paradigm style. Before you know it, you are seduced and involved into the play of words and metaphors. The primal and controlled human are at conflict throughout the opening of this book:
Excerpt from Rose Red
"Bears are not good fuck-buddies,
They get possessive, Casual is not
Part of their lexicon, relying on growls,
gruff prose hurled into the neck.
You can hardly make out the words
Because bears are distracting
When they are inside you
At around a third way in the shift changes in a gut puncher of a poem titled Iseult Gonne continued later in Woodlander. The theme of still birth is a subject that is rarely mastered to devastating effect by some of the bravest poets in European writing today (nod to Wendy Pratt and Museum Pieces et al). The sparseness and brevity of the poem Iseult Gonne leaves the most maudlin conclusions to your imagination but in the montage of triolets look at this definition of loss and you will feel as you read the lingering desolation of life lost that was carried deep:
From Iseult Gonne
The candle is lit
and blown out
lit and blown out.
You cannot create a life
out of a dead baby –
you just can't do that.
The Woodlander in common folklore is the heroic figure but the heroic figure here is enduring any loss by not overcoming it but accepting it is part of you as much as any internal organ except this loss was uninvited. Stacey intersperses styles here from loose prose to tight configurations of 3x3x3x3 or 6x6x6x6 and the beats act like hooves roaming the woodland narrative she conceives and you are not going to find your way out easy because I took from this book that we are as deep as a forest, as Ursula. From the sinewy arms of the startled trees to the wet mossy purifying filtered words and poems that flow from one page to the next this is a book that you can return to and read whole or partially as themed or an un-themed piece. It is possibly Ruth Stacey's best work since Queen Jewel Mistress and is one of those books you root will do well. A sumptuous piece of work from a writer that is going from strength to strength.
Excerpt from The Woodlander:
A stillborn baby must be buried too;
any tree may mark the grave he thought best.
To not know makes any wooded view
a cold graveyard instead of a forest.
With five collections of poetry focusing on conflict Antony Owen is a well respected writer known for investigative poetry which took him to Hiroshima in 2015 to interview atomic bomb survivors. His subsequent collection, The Nagasaki Elder (V.Press) was shortlisted for a Ted Hughes Award in 2017.  His  sixth collection The Unknown Civilian is published by KFS.
I, Ursula by Ruth Stacey is published by V Press and available here: https://vpresspoetry.blogspot.com/p/i-ursula.html
Read More
I confess to having a personal interest in the art and the life of Stanley Spencer that is entirely fanciful, born of the fact that he and my grandmother, Hilda, both worked in war hospitals in Bristol during the first world war. 'They could have met,' I thought, when I first learnt this information. 'My Hilda could have been his. The visionary Stanley Spencer could have been my grandfather!'
In fact, hers was a different hospital from Stanley's and she a different Hilda from the  imaginative and striking art student Stanley wouldn't meet until December 1919, and by and large I'm glad, as my grandmother enjoyed a happy marriage with her tram-driver husband, Jack, whereas poor, put-upon Hilda Carline lost her art, her family and her sanity as a result of her union with one of the greatest British artists of the 20th century, and his enduring sexual obsession with the manipulative and malevolent Patricia Preece.
Whilst encompassing Stanley's formative years and his experiences in the Great War, and the unconventional religious faith that drove him repeatedly to recreate scenes from the Bible with Cookham as a backdrop, the majority of poems in Graham Burchell and Rosie Jackson's collaborative collection focus on Spencer's and Carline's entangled lives – a personal history that's been called 'most bizarre domestic soap opera in the history of British art'. They mostly use Stanley's paintings as their frame of reference, but also one or two of Hilda's. The reader, aware of a future still unknown to those who must live it, can't help but shiver when reading the poem 'Lady in Green', after Carline's 'Portrait of Patricia Preece', in which the trusting Hilda 'paints people as if light/were spread equally inside them' yet 'knows how yellow turns to green/in the shadow'.
This feeling of foreboding is fully realised a few poems and four years later in 'Fantasy of Hiding in the Greenhouse'. Hilda has embarked upon the process of securing a divorce from the man she is doomed always to love, and appears to have lost her sense of self entirely:
'She wasn't sure what she was doing here,
wearing the skin of someone from the past,
like a ghost staring into the familiarity
of a garden lost forever, the life
that wandered in it lost forever.'
Poets are frequently exhorted, in the words of Emily Dickinson, to 'tell all the truth but tell it slant', and this is a particularly effective way of approaching paintings which themselves often exaggerate detail or focus on the familiar from strange angles. Thus Patricia's hands in the poem 'Patricia Preece' are 'rakers/shovers, gold-digging forepaws', a verbal echo of the hands at the forefront of Stanley's 'Patricia at Cockmarsh Hill', with their disproportionately long, grasping fingers that seem to reach out of the painting itself, while the following stanza gives us the startling image of ' … her à la mode/choker necklace, like a zip pull/that she feels for to change her head/for another more appropriate to the season'. In a more light-hearted vein, the poem 'Bloodrush' is written from the point of view of someone somersaulting over railings in a line of people doing the same: 'You too know what it is to be fat/and fluid as an atom. You glimpse hems/of skirts, an artist, someone's potatoes'.  This is ekphrasis at its best, in which art and poetry engage in dialogue with each other, each adding to the understanding of the other.
It's no reflection on the poems, all of which stand independently of their associated paintings, to say that a reading of Two Girls and a Beehive is enhanced by looking at the art that inspired them. If you're not lucky enough to have access to a copy of Phaidon's Stanley Spencer, they're all searchable on line, and there's a timeline at the back of the book for those who aren't familiar with the detail of Stanley and Hilda's lives.
Deborah Harvey's poems have been widely published in journals and anthologies, broadcast on Radio 4's Poetry Please, and awarded several prizes. Her four poetry collections are published by Indigo Dreams, the most recent being The Shadow Factory (2019). She is co-director of The Leaping Word poetry consultancy.
Two Girls and a Beehive by Rosie Jackson and Graham Burchell is published by Two Rivers Press and available here: tworiverspress.com/shop/
Read More


The title of this collection is taken from a poem with that name in the book.
Was it night fall or the sun eloping with a cloud?
No one knew for sure but whatever the cause
the shadow factory vanished.
The poem in its entirety is about the demolition and dereliction 'rubble and broken glass' and the loss to the people of the workforce. It speculates on where the shadow factory is now and within that metaphor, has a real felt and elegiac tone, adding to a collection which always seems to acknowledge the edge lands in our lives and the power of thought and wonder.
Personal memories and poems of memory permeate. They surface in contemporary moments, as in Glebe Lands, a poem about moving house:
'Once we've decamped here, unpacked our lives … we'll start to overlay this street with I'm-late-for-work …  I'll show you the shortcut through the lane you'll call a snicket……
but always abuts against the past:
But for now I'm holding my grandmother's hand,
She's wearing a hat hedgehogged with hatpins
a smile to wide to jump
Also on this theme are The Future Tense about learning French in school and The Invisible Man about a relative who has lost touch with his sister. These are people who are looked at slant, to quote Emily Dickinson. We find detailed portraits.
There is a beautiful sequence, Black Seeds A wreath of sonnets, which recalls the death of a father, where again the poems move fluidly between the present and the past.
You tell fibs about your fluid intake
scrabble for your medals in the tin by the bed
… this one's the Africa Star
the ribbon's yellow for sand in the desert
the red is for the blood
When I was six I'd practise being dead
spread-eagled like a cowboy on the front room carpet
toe over toe for my crucifixion
my head drooped decorously to one side
My favourite is My father is singing Rev Eli Jenkins' prayer over the phone. With the repeated first line in every stanza, the poem becomes a lament acknowledging the imminent loss of her father.
And I wonder if this is his prayer too
and whether he wonders for how much longer
it will be answered
My father is 95, each moment numbered   
My father is singing me a rag to wrap myself in
There are also many poems which skilfully catch a moment in time through a clear and honest gaze, for example, Touchstone:
The place you need to reach
is not a leisurely stroll from the ice cream van …
And let your flesh feel the gravel of wind-thrown rain
the luxurious burn of summer gorse
and don't presume to be certain of the terrain
Eleven o'clock in Leningrad also captures as if in a sudden movement two people travelling in the city in a starkly lit moment
Caught
in this blue night we're outside of time
in a city of shifting names
built on bones and water
There is a tenderness in these poems, a personal voice seen particularly in Sensible shoes, a portrait of a friend with whom the poet visited Somerset churches.
Years of pacing the wards have left you
as sensible as your flat-heeled lace-up shoes.
And also a questioning and philosophical and bemused tone which asks us to engage with our humanity:
Sometimes perfection is too much
like on early autumn mornings parked by the lake
in the space between daylight and dawn,
when you know without counting there's seven swans
four calling crows …
Write instead this rain-smudged dusk
bent and rusted railings breaking
from Heron's Green Bay

Clare Crossman has published four collections of poetry. Her fifth, The Mulberry Tree, is due from Shoestring Press later this year. Recently she wrote for Waterlight, a film about a chalk stream with the film maker, James Murray White. She is the convener of the South Cambridgeshire stanza group.
The Shadow Factory by Deborah Harvey is published by Indigo Dreams Publishing and can be ordered from them or the usual outlets https://www.indigodreams.co.uk/deborah-harvey-tsf/4594746908
Read More
Witness
By Jonathan Kinsman. Burning Eye Books. £9.99.
In his new pamphlet 'Witness' , the poet Jonathan Kinsman has taken the gospel of the New Testament and drawn inspiration from the disciples and their stories, the then fiercely reimagines them as contemporary outsiders, radicals and outcasts. There are fourteen in total, the original twelve apostles with the addition of the thirteenth, Matthias who replaced Judas, and Mary Magdalene.
Their dialogue with Jesus of Nazareth and God ranges from angry and defiant, desperate and brave, to  erotic and tender. They dare to be themselves, to speak out at the world, and hereby raise themselves up to a love that is both human and divine.
Kinsman identifies as a queer Christian and in this extraordinary work, he creates a dazzling new language, part biblical text, part wow; a lyrical and searing shout- out to anyone who has felt alone, abused, different, damaged and yet so vitally alive, defiant and beautiful.
Let's start at the beginning with an excerpt from 'andrew':
In galilee, some grey and dirty town
                 long forgotten by parliament, where the air
stinks like rotting fish, like waters going stagnant,
            everyone is plotting their escape
and you are no exception. Jonah's' wayward kid,
              hair in his face and holes in his hoody sleeves,
trailing after some pretentious fucking nickname,
              hanging on his every word.
all those freaks and weirdos, you among them,
               loitering on the docks, seagulls, feral cats.
You scare the neighbourhood watch doing nothing.
                  and baptist's saying something's gotta give.
Here is part of 'mary magdalene':
when they speak of broken things, they speak of
japanese pottery, grounded doves, hearts-
                 never the creak of a bedroom door,
bruises worn like pearls, everything you have
              shoved in an overnight bag.
            wicked woman, witch,
                cursed, possessed, lain with the devil,
                temptation in a too-short-skirt-
but what of wicked fathers? wicked husbands?
   you were dark-eyed and drunken;
yelling your sins from the top of your lungs;
                             divorced and dancing
        under god's gaze. he might have played the guitar
but you, bravest among them, banged the drum.
These are poems that leap off the page, catch fire, howl and demand to be heard.
Take this from 'matthew'.
when you meet god, he's on the open mic
of the seediest bar in town and you're slamming
down the pornstar martinis, politely declining
something quick and dirty in the nearest alley.
Later
god calls you by your name, you pull up an extra stool.
you let him take a seat, turn to him and say
his song was great, but who's he kidding
if he thinks he's going to make it?
This from 'jude'.
and here's the god who hates fags brigade,
bumping against you, hoping to topple you,
hands grazed against the concrete,
bring you down, low and humble.
                                                         thad,
they're smirking,
                          thad, my lad, what're you doing
                         running round dressed like that?
floating sleeves and
                   draping skirts.
                       Jude, you seethe through clenched teeth
Later in the poem, as with many of the poems, Jesus appears.
sister, I am with you.
he's never once called you thaddeus.
                    seen your naked body- seen the woman
                with her flat chest, the limp flesh between her legs.
                          seen perfection.
                           he presses a tender kiss against your forehead.
                        sister, there's no such thing as lost causes.
The poems are all prefixed with a line from a psalm which gives them a context both sacred and profane.
In 'philip' ( and all the names are deliberately in lower case) the poem begins with part of the psalm from mark 6.42
' and all ate and were filled'. We are taken to a food bank.
you drive the van, picking up and dropping off cardboard boxes,
                                                plastic crates, shopping bags,
                  slender, trembling hands; passing thanks from
                  dry, hissing lips.
at the table he lists, sorts, assembles: tins, packets, bottles,
oh so quiet, no show but clipboard tallies,
           chews his own flesh as he thinks: how much? how many?
Later a miracle happens: like the loaves and fishes the food mounts up in the parcels but still stays on the table.
one sausage turned a week's worth of breakfasts,
a mars bar no longer to be shared, but one each, for every kid:
                                               some quiet miracle filling bellies
             not with fairy food or stone soup but something real.
This pamphlet is beautifully produced with a striking cover in white and red scrawled on black, Jonathan Kinsman has created a testament to the now, the power of survival and of love.
Order your copy of Witness by Jonthan Kinsman from the Burning Eye Books website: https://burningeyebooks.wordpress.com/2020/05/07/new-title-witness-by-jonathan-kinsman/
Read More
Poetry comes from a deeply personal inner landscape. But what happens when external geographies bring their own emotional and social clout to the party?
Enter John Dust – the riveting personification of Louise Warren's native Somerset. Dust feels dangerous, fascinating, unstable, yet deeply rooted – a magical legerdemain by Warren, who gives us a Green Man for the modern age.
Prepare to be charmed, hoodwinked, even seduced by Dust, who is:
". . . narrow as a pipe, face like a clay bowl
choked-up, stony-broke
chest blown open like a sunset . . .
coat stuffed with apples
coat stuffed with horsehair, tied round with sail rope
coat bursting open, burst out the linings
sodden green ditches, pricked through with heron,
pierced through with willow, bloody and wasted . . ."
His landscapes entwine us in their smells and sounds, their atmospheres and memories, like lovers:
" . . . Deep inside the bathroom I undress myself for you,
John Dust.
Down to the sedge and water, down to the beak of me,
Sharp in the reed bed, down to the hidden.
I strip the light from my skin until I am overcast,
Become cloud cover . . ."
Warren's imagery is lively and surprising, her rhythms inventive, with a sure use of repetition. Sometimes the pamphlet reads like a song; sometimes like a botanist's memoir. Often, it's playful – even tongue-in-cheek. Always relishing the vibrancy of words.
". . . the sky rusting over, smashed with egg yolks,
water as mirror, water as leather, water as smoke, as trick,
a light under the door."
John Dust poems rub shoulders with others that reflect the surreal, the uncanny edge to life – and death. 'Woman with small dog' tells of a 1,700 year old burial find in the Museum of Somerset. In others, Warren turns herself into a bird or a fox; discovers synaesthesia in a wood; finds meaning in the death of a fly:
"How beautiful and delicate he is in death
laid out on the white afterlife
like a god, a fly on the sill
in a tapestry of cup rings."
She tips her hat to Elliot in 'East Coker', and in a series of five poems 'The Parish Magazine', offers hilarious thumb-nail portraits of village life. '5 Riddles' challenges the reader to look under the bonnet of each poem for its double meaning (spoiler alert: answers on page 30!)
Perhaps most moving of all, a nine line poem inspired by finding her late father's old OS map, shows Warren at her most observant and understated. Could John Dust himself be an echo of what she hopes to find again? Landscapes, old maps – these are the tracks we follow when seeking things lost to us.
"some kind of weather is trapped here – damping, a cloud
from the 30s, pressed onto the page – vapour thin fog expanding –
some kind of man is trapped here – his back to me smoking –"
Claire Booker lives in Brighton. Her pamphlet Later There Will Be Postcards is out with Green Bottle Press and a second is forthcoming from Indigo Dreams. Her work has appeared in Ambit, Magma, Poetry News, Rialto and The Spectator among others. www.bookerplays.co.uk
Order your copy of John Dust by Louise Warrant (V. Press) here: http://vpresspoetry.blogspot.com/p/bookshop.html
Read More

As with her previous collection, My Grandmother Skating (Indigo Dreams), Hex explores 'the extraordinary with the everyday […] myth, magic and fairy tale', but goes darker. It quotes Angela Carter's Nights at the Circus (1984) 'She was feeling supernatural tonight, she wanted to eat diamonds', offering a carnival feast of darkly sparkling gems.
The first poem 'Changes' (p.9), echoes Carter's Company of Wolves (1979), whose werewolves wear fur on the outside:
…This is how things change …
When you notice that bones
are being worn outside the skin
like gloves, when the scar on your ankle
has become a dagger …
so, the tone of the transgressive and the extraordinary within the ordinary is set.
It's a magic carpet ride through history, myth, literature, art, personal experience and the everyday. Jennie has a skill for inhabiting characters, for the strange within the known/unknown spheres.
The personae provide a conduit for shadow observation at the edge of transgressive darkness, as with Oedipus' mother in 'Jocasta's Song' (p. 25):
… Many men sleep with their mothers
in their dreams …
'Blodeuwedd' (The Mabinogion (c.11C-12C), offers Gothic imagery in tones of E.T.A Hoffmann's 'Uncanny' (p.13):
…But I can't help hearing
wings beating at the window, the scratch
of claws scraping the glass with my name.
In other incarnations, fantasy and fact inhabit co-exist, with a humorous slant. In 'Miss Haversham Goes Shopping' (p.37), Charles Dickens' character is an aged care-home dweller, remembering lost love in Debenhams:
… Cardy, trimmed slippers, a rug of crocheted
squares over her knees …
…a string of pearls glistening like tears
Amongst dark notes are flashes of humour, as in 'Changes' (as above):
… When your pet cat turns feral,
all snarling and claws, and the cushions
in your sitting-room look furious …
Elsewhere, humorous subjects are treated with sensitivity, as with the cross-dresser in 'Vintage' (p.39):
… On with the heels.
The backlit mirror flaunts his catwalk twirl,
a tip of the hat … The dog yawns.
'I Knitted You a Halo' (p.41) voices the real-life octogenarian Cecilia Giménez from Borja, who mistakenly ruined the church fresco Ecce Homo by Elías García Martínez:
… I knitted you a halo, but you said, No!
You were never one for showing off …
'Sacrifice' (p.14), harbours the threat of dark at the heart of early Folk/Fairy tales. Hans Christian Andersen's The Little Mermaid (1837) grows legs, to be with her human love. This delivers a graphic shock of what that would entail:
… My new legs are two spikes. At each
step I take, I tread on blades …
But I know our passion will be a sword.
There's beauty in the language too, 'If I Could' (p.30):
… If I could reach the wolf of you,
beyond the sleek lover, the human truth,
… I would lick your paws, anoint your pelt
with my woman's scent, feed you
on apples of the moon.
The tone is theatrical, with a cast to entertain. Carter is threaded with brilliant, dark menace, when this surfaces in Hex, the page ignites. It's a wondrous, sensual riot of transgressive themes. For some readers, they may step a little too far beyond their safe boundaries, others would tolerate more bite, but its imagery and language engages.
The work in pp.18-24 and pp.31-32 enters a deeper reality, closer to the poet's own psyche. The language speaks directly of loss and heartbreak. 'Snow', 'Shadows', 'October', 'Colouring In', 'Like Glass', 'Once' and 'Pearls' are finely crafted with unbearable loss. They're beautiful, moving and almost too painful to witness, as with here in 'Ashes' (p.20):
… If they'd given me ashes
I would've come to the river,
and let the gentle water carry him
downstream, on a prayer –
but here I stand, empty-handed,
imagining tiny fin-like limbs flailing
against the flow …
These eight poems sit at the heart of this collection. Perhaps they don't fit 'hex' as defined as 'an evil spell, bringing bad luck and trouble' (Cambridge Dictionary, online) but loss is a dark force which inhabits its own liminal space. Perhaps they would sit comfortably in their own collection, or perhaps this is what Hex is really saying after all.
You can order your copy of Hex by Jennie Farley (Indigo Dreams)  here: https://www.indigodreams.co.uk/jennie-farley-hex/4594369593
Kathryn Alderman's blog: https://kathrynaldermanwriting.poetry.blog/
Read More
This book has an unusual premise in that it's about something you wouldn't want to read about. It's about one of the most difficult subjects – child loss – and yet Hopkins' writing allows the subject the sensitivity and accessibility that it needs. The Shape of a Tulip Bird is a collection full of stars, ships, sea life, birds, landscapes – whether geological or of the body. Again and again we are presented the image of a small boat against a vast ocean. Hopkins' poems are extremely descriptive, some of them are almost all description.
The poems in this collection are soft, feathery – the imagery is tactile and womb-like. The shape of the poems are elegant on the page, imitating droplets of water or perhaps bodily liquids. In this collection words echo the rhythms of physical processes. Due to the sensory nature of these poems, I caught myself wondering whether parts of them could be interpreted as being from a baby's perspective.
When reading The Shape… I got the sense that Hopkins isn't trying to hold off the storm in these poems, if anything he wants it to come, wants it to rage, these poems are only designed as a method of weathering the storm.
Hopkins poems show the power of art to slightly console, if only by providing some small relief through expression. There is scant relief in this collection, which in my mind, is fitting. It's good to hear a man's perspective on the issues in these poems, we need to hear more male voices concerning child loss, its effect on relationships and post-partum depression for males. One of the other recent collections that I can think of that touches on these issues is Blank by Jake Wild Hall.
When reading these poems I got the sense of Hopkins' desire to understand. He does this by going back to re-examine the body and what makes it up repeatedly.
There is wonderful language in this collection, seen for example when Hopkins writes unflinchingly in the opening of 'I See Only With The Light From Fires':
In idle moments, where I am found,
I grieve in a lesser black than you,
A witness to your love.
Hopkins' poems don't break their hold at all, despite being so raw and intimate. One gets the impression that even though the events of this collection were experienced in union, they were also isolating.
There is a journey presented in these poems. The reader is able to see a slight shift in mood and events in the poem 'The First Light', in which the poet describes the first day in which he didn't immediately think of the name of one he lost. Something is cut loose in these poems, yearning, searching. Despite this there is a flicker of hope at the end of the collection. The Shape… reminds us that in a broken mirror, one may see momentary, beautiful reflections.
Setareh Ebrahimi is an Iranian-British poet and artist from Brighton living in Faversham, Kent. She published her first pamphlet of poetry, In My Arms, from Bad Betty Press in February 2018. Setareh has been published in numerous anthologies and journals, such as Eunoia Review, Confluence and Thanet Poetry Journal. She obtained her Master's in English and American Literature from The University of Kent in 2016. She regularly performs her poetry in Kent and London.
The Shape of a Tulip Bird by Christopher Hopkins is published by Clare Songbirds and available here: www.claresongbirdspub.com
Read More