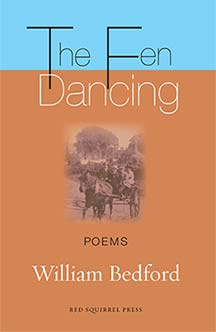 This collection made me think driving through the Fens in August. I was travelling along straight roads, under wide skies. But despite the open landscape, there was much I couldn't see. It felt like speeding through a region that was tangled and obscure. .
William Bedford grew up in a remote part of Lincolnshire. There are poems here about ancestry, history, old family stories. It was like being given an opportunity to go back and look again.
In the title poem a first person narrator hears a farrier talking about a celebration that's part of the rural calendar.
.…an evening of dancing
when you cannot tell the fen from the dance
Bedford isn't a poet who nostalgically harks back to some bygone idyll. The gathering that's being evoked took place just before hostilities broke out in 1914.
Despite an apparently straightforward alternation between the farrier's words and the listener's thoughts, the piece has an elusive, almost ghostly quality.
But who's speaking
I cannot say
The surface plainness of this writing is deceptive. William Bedford's poems are disorientating. They dance about, shifting in style and subject matter. He may have one foot in a familial, agricultural past, but the other is very much in a cosmopolitan, intellectual world. Many pieces are addressed to other writers, or are a poetic response to their work.
In 'The Railway Station at Stamford' Bedford pays homage to Edward Thomas's Adlestrop. The Sunlicht Still on Me' is inspired by Hugh MacDiarmid's elegy, 'At My Father's Grave.'
We look upon each ither noo like hills
Across a valley. I'm nae mair your son.
As writers we may see poets of the past as our artistic forbears. Yet if we wish to acknowledge –publically – our debt to the greatest of them, our own work can appear relatively slight by contrast.
But William Bedford judiciously saves the best till last. 'Midsummer Party' – a free version of a passage from Ovid's Amores – is a lustful, edgy bitchfest of a poem in which past and present are fused to magnificent effect.
That's when we'll find our moment: in the library.
   or the paternoster lifts; in the secretary's office;
gods forbid the departmental lavatories, they're a disgrace
  even for educated men. We'll just have to take our chance…
Reviewing can be a chancy business. But I'm fortunate to have received this collection.
The Fen Dancing by William Bedford is published by Red Squirrel Press, 2014 £7.99 and can be ordered here
Read More
Rosie Jackson's What the Ground Holds celebrates what endures in the lives of individuals, and in the human and natural world. Demeter and Persephone are among the guiding mythic figures, more earthy writers and artists giving flesh to the same stories. In 'Recovery Stroke,' the final lines capture the recurring and moving theme: "the greatest beauty sometimes/happens at the weakest point".
The structuring idea is acted out in the first few poems. In 'Persephone,' the daughter of Demeter escapes from the underworld, eating the pomegranate seeds that will keep her prisoner forever. In 'Persephone Blames the Dress' Persephone shows her mother sewing the dress "too tight over my eyes/till I was falling", before 'Demeter Takes Up Embroidery' has her mother finally deciding "I am done with all those seeds which breed loss." This is implicitly both a feminist and a Freudian story.
Jackson then turns to the reality of her own family, her father taking her down a coalmine that mimics the mythic underworld, while at home "Mum cooks Sunday roast". We are in the world of actual families here, the world of parents and children, lovers and the bereaved. 'My Mother's Engagement Ring' is one of Jackson's most powerful poems, the daughter scrubbing the ring she has inherited, "prodding out the years // of standing at the sink", thinking "of all the things she touched/those last forty years // and all the things – /a man, a child, a glass of wine – /she didn't". The abrupt final line makes the truth behind the mourning painfully real.
There is a restrained anguish throughout What the Ground Holds. Lovers in 'The Lovers' Exchange' find each other's stories in the scars experience has left on their bodies. A friend dies in 'What the Ground Holds', "In the time it takes me to type her poem,/the room cleared/like one of Prospero's tricks." In 'Dropped from Life,' another friend commits suicide, and Jackson imagines the souls of the dead wandering the world, longing to be back in life, "where friends and lovers have forgotten/what they promised/about always loving,/always holding hands".
Five poems based on paintings by Stanley Spencer complete the story. Spencer himself speaks in 'Of Angels and Dirt,' telling us "I am on the side of the angels and dirt." The next three poems are in Hilda's voice, 'Hilda Carline Spencer' showing the couple "Linked by our sorrow", then in 'Seated Nude' Hilda reflecting bitterly of her own nudity "There is no lust,/none of the meaty pleasure/that reddens his portraits of Patricia." In 'Hilda, Unity, and Dolls' Hilda is confined to a mental asylum, thinking of her daughter Unity, the name that "didn't work./We still split up./I split up." In the final poem, 'Resurrection,' all the "lovers, mothers, children, fathers, plumped-up wives" are brought together in the fleshy colours of Spencer's paintings, the only afterlife they will know. A fine sequence to end this marvellous collection.
Order your copy of Rosie Jackson's What the Ground Holds (Poetry Salzburg, 2014), pp.40, priced at £6 here
Read More
The Crumb Road is a debut collection from Maitreyabandhu, a Buddhist priest who was born Ian Johnson in 1961. The contemplative tone of his prefatory lyric, 'This', hints at the journey he has made:
There's no law against my listening
to this thrush behind the barn,
the song so loud it echoes like a bell,
then it's further off beyond the lawn.
Whatever there is, there's this as well.
It's a poem which, in its more modest way,  might usefully be compared with the opening movement of Eliot's Burnt Norton and one in which Maitreyabandhu seems to be reaching towards transcendence, 'even though we build a common hell'. The collection proper is then divided into three sections. In the first of which he evokes family memories and, in particular, creates a memorable portrait of his father.  'Burial' is the first of several poems in which we find the poet's father digging objects out of the earth. Elsewhere we see him digging up old bottles or copper wire, but here he accidentally turns up some human remains. Written in couplets, the poem is concise and effective, but finds room for some humour:' He brought / the second skull indoors with clods of earth // still hanging from its jowl and stood it on / the Stratford Herald while my mother protested.' The father's obsession with digging becomes, as in Heaney's signature poem, emblematic of the son's later, and more complex, attempt to unearth the past:
But that isn't right,
I've made it up or rather I've mistaken
my father's story for the thing itself:
the smell, the wormy skull, the policeman
tall, bright-buttoned, standing by the Aga.
This is then followed by a dozen poems that focus on various childhood memories. The accumulation of detail in 'The Coat Cupboard' re-invents and goes beyond a small child's perspective on a place that seemed strange, if not quite magical: 'You don't push your way through to discover a landscape  / where beavers can talk.'  As in 'Burial', this is a poem about a specific memory, but then comes to symbolize the actual process of trying to remember: 'You find a set of keys / without their brightness or warmth of handling.' The poem concludes on a note of Proustian recognition, when the poet discovers that his grandmother's pink lipstick 'is still shaped to the curve of her lip.' 'Bottle Digging' and 'Shark Fishing' are further character studies of the poet's father. In the former one senses the adult's wisdom as he stands back to let his son to learn from experience. In the latter, appalled by a fisherman's cruelty, 'my father paid the thirty pounds / we owed but wouldn't shake the skipper's hand'. In 'Hammers' he conveys the obsessiveness of a man forever on the lookout for bargain tools and the subsequent grief of those tasked with having to dispose of them.
The work collected in the second section is less circumstantially autobiographical and more stylistically varied. With its twenty eight poems it might well have been advisable to hold some of them back for a subsequent collection and thus give more prominence to this volume's two autobiographical sections. 'Still Life with Geranium' is the first of several poems that strive to create an abstract space: 'The quiet / inside myself / is of a room inside a room.' In 'Place' the poet's goal seems just beyond him: 'You're in a room / with one high window // your step ladder doesn't reach.' Throughout these poems the images tend to be more elemental and the landscapes more visionary than in those that precede them.  In 'Pine Branch' the poet evokes Cezanne and suggests that the painter and the contemplative share a common approach
Cezanne would have understood the problem
of a pine branch, its relation to the sky
in the early morning with just a sickle moon
and the sun not yet up among the rocks.
This section has four effective prose poems and a mesmerizing narrative poem, 'Rangiatea', which, somewhat in the manner of a classical epyllion, describes a voyage between dream and reality. Further highlights are 'Visitation', 'The Man', in which contemplation is undermined by a longing for community, and 'At the Station', a description of two gay men:
One wraps his arms around the other
from behind. He can feel his belly's breath
against his back. They stay like this
for quite some time, like figures made of clay
still warm from the hand that fashioned them.
Finally, the collection is brought to a close with STEPHEN, a sequence of twenty one  poems exploring the troubled relationship between two adolescent boys and its tragic conclusion. The candour, tact and poignancy of this sequence are quite remarkable. Shot through with moments of guilt, awkwardness and lyrical intensity, its fragmentary, non-linear, handling of events creates a brooding sense of obsession, as the two boys try to make sense of their feelings. Set in the 1970s, Maitreyabandhu's re-creation of that less than tolerant era is utterly convincing, as is the mythologized landscape of Crockett's Lane, Fletcher's Hole and Lodder's Field. From the outset there is an atmosphere of secrecy and denial: 'Two boys once walked across an iron bridge… / They didn't speak / or catch each other's eye.' There is also an authentic sense of the mundane, as the two boys explore their feeling towards each other, and how they feel about themselves, across a landscape of allotments, dens, and railway tracks. It's an ordinariness that helps to bring into sharp focus their drama of gaucheness and desire. The tension is well conveyed in 'The Cutting' where, after some twenty lines of leisurely description, there is a sudden change of key:
I managed to lift his shirt and touch his side,
but he was scared and so was I. And anyway
the train didn't stop; we just stood there
on the platform while she thundered past.
In 'The Brook' water becomes a symbol for repressed sexuality: 'I was looking // to where the silted leaves might show / a trout or stickleback, a sluggish / weight of water.' In 'The Garden', racked by guilt, the poet creates a poisoned paradise in which he finds room for potato drills, piles of scrap and a wrecked Austin Princess; while 'The Mop' is a brilliant evocation of a travelling fair as detailed as any of Larkin's set pieces. It finishes on a note of matter of fact tragedy:
He'd been waiting to do something with his life
when someone screamed as a woman we both knew
turned right and knocked him off his bike.
Taking his title from the tale of Hansel and Gretel, Maitreyabandhu uses the image of 'the crumb road' to symbolize the vulnerable trail he has followed back in time. 'It didn't matter now. It was long ago', the poet says in 'Two Boys. The reader, however, will be inclined to disagree as he travels back with the poet to share each shimmering 'spot of time'.
Terry Cree is a writer and artist based in Hampshire. Fruit, his first collection of poetry, contains a sixteen page 'triptych' inspired by the work of the American photographer, Ralph Eugene Meatyard alongside another dozen poems that vary in length from brief lyrics to lengthier meditations. Cree has supplied the artwork for the cover and a sequence of pencil drawings to accompany his poems. At a time when poetry collections are frequently too long and seem careless of their overall structure, it is a relief to fine a volume that is so meticulously assembled. A similar concern with 'composition' also informs the individual poems. In 'The Consolation of Walls' Cree works through existential uncertainties with the elegance of a geometrical paradigm and with an ironic nod, perhaps, toward the imprisoned philosopher Boethius:
There is a wall inside me against which
I have been kicking a small rubber ball
For years
Sometimes it rolls back along the ground.
Sometimes it bounces back like feelings plotted
On a graph,
That old oscillation of up and down…
That ball can rest inside me like a stone,
As hard and rubbery as death, unkicked,
Unknown.
However, to start at the beginning with 'Josephine Jones', Cree's enigmatic opening poem, we will see that the metaphysical obsessions that shape Cree's work do not lead to predictability of approach or any narrowing of range. In this poem we seem at first to be on familiar territory: 'In a tent of clouds / I am six years old / in Mercer's Field…' Soon, however, as the opening sentence slowly unwinds, details merge and the narrative becomes dreamlike. Swept along by the poem's riddling and incantatory rhythms, we learn little beyond the fact that Jennifer Jones was five years old and may have died: 'Josephine had flowers on her heart.'  More certain, is the fact that the poem's protagonist is haunted by his memory of her: 'She was the dark cleft / I will carry with me/ till the raging sun / falls out of the sky.' What is so impressive about this piece is that it manages to achieve both depth and resonance from what, on the face of it, is very simple language.
Absorbing too are 'Weir Gate' and 'Sea Song'. The former is an unflinching narrative about an act of childhood violence: 'There were three kids / and two were friends / and one was no friend / to either but, abject in / his hope, just tagged along;' while the latter is a study of isolation in which a protagonist stares out to sea and contemplates the nature of waves: 'he wonders / if a wave can have identity // whether one wave is entity / unto itself or whether waves // are merely gestures of the sea.' Observation, however, does not make sense of the world, so that the waves can only reinforce our sense of the man's emptiness: 'their sighing / signals nothing to our lonely / man except the limits of love, //  his own heartfelt perimeter.'
Transience, separation, and the limits of what is knowable: these are also themes explored in Cree's meditation up the 'family albums' of Ralph Eugene Meatyard. In this poem, Cree's technical skill is again much in evidence, as he adapts a form put to brilliant use by Thom Gunn in the 1960s. 'Meatyard Triptych' is composed in rhyming quatrains, each line of which is based on a count of eight syllables, rather than four metrical feet. It's a form that gives both backbone and flexibility. In the first panel of his 'triptych' Cree concentrates upon the photographer's studies of his own children. Attempting to get some kind of purchase upon the mind of a child, he explores the distance between the artist and his subject: 'What does it mean / When a child by its yawn or lean / into another seems to know // More than we imagine they do?' In the second panel the photographer's wife, Madelyn comes to the fore and the poet homes in on the concept of 'the couple' with side glances toward The Arnolfini Portrait and Grant Wood's American Gothic. In the final section poet and subject seem to merge:
Meatyard looks down on us,
And, in doing so, looks by chance
Like me. Only the circumstance
Of death, it seems to me, sets us
Apart. He has that doubtful look
I cast upon my own image
Whenever I'm stopped on a ridge
On my own, knowing what it took
To get there.
Cree's 'Meatyard Triptych' is beautifully sustained but challenging. It is the most interesting consideration of the nature of 'art and reality' that I have read since the early work of Charles Tomlinson.
Alongside poems that highlight Cree's ability to write at length, Fruit  also contains a selection of shorter poems, each of which seems sui generis, as if the poet were determined to constantly renew his practice. In 'Flat Calm' he reinvents the traditional 'ubi sunt' theme: 'The haberdashers, milliners and mercers / are vanished like the nap beneath their hands'. 'Wardrobes' captures the actuality of an object and illustrates the proposition that sometimes we have to adapt our lives to our furniture. 'Blind Man's Buff' is a short but moving poem about some young people who are 'attractive, bright, and utterly broken'. Terry Cree's Fruit is a stunning debut from a poet who knows that, ultimately, there are no answers to the big questions and that words are all we have: 'Words that meant nothing / Then and nothing much / now.' However, in this poet's hands they have a music of their own and point towards depths beyond their burnished clarity.
Order your copy of Maitreyabandhu: The Crumb Road from Bloodaxe Books here
Order your copy of Terry Cree: Fruit: Two Rivers here
Read More
This is a book someone could turn into a Hollywood movie.
Written in a genuinely 60s poetry style, with blocks of indented prosaic lines broken at unusual places and sudden Grand Guignol turns of phrase and compression of language (dropping out definite and indefinite articles), its affectations feel unaffected, of a piece, 60s. As such, it is a triumph of risk, a voice attempted and achieved. One can imagine the 21st century poet Blenkiron, graduate of creative writing, blenching sometimes at his own poetic voice and wondering if he should add in notes, more narrative, more conversational English. One can be grateful he choose not to, and went with the voice.
This is sci-fi poetry, and with voices in it. Sometimes it has the grand phrasing around a simple stark idea of an Arthur C Clarke. Sometimes it feels like a new kind of Crow, with a Hughesian intensity of amoral villainy that also speaks to our selfish inner brat. The world is too crowded, the problems seem immense, the money not there. One sees around one all the short-cuts of road rage, whipped up hysteria against the Scrounger and Immigrant, and the fact that we have a government that is openly attacking and impoverishing sections of the community while semi-passively and even sadistically the majority sits back and does little. As Clarke would do, Blenkiron recasts our present-day world as a dystopia in which the attacking and impoverishing is taken a stage further, in front of citizens' eyes and still they do nothing to help fellow humans.
Because the fellow humans on the margins are now called, by an incoming demagogue of a Prime Minister, the "Pustoy" (the empty, the soulless). And the Pustoy are being hunted down, murdered in the pages of the poems like the victims of Crow. A dark state, similar to that in Alan Moore's V for Vendetta, with, again, a Crow-like villain in active madness personally leading the violence with his own self-righteousness, is at work. And people look on, passively, almost enjoying the despair.
And I would pay
through the eyes
if there were a tax on a sleepless night.
I'd have paid with my eyes
not to have seen you taken;
collected like some precious stone from a cave wall,
axed and bagged.
("PETER MASON")
The language is rhetorical, and rather like a screenwriter's in a schlock B movie. One can imagine a hundred creative writing lecturers descending to ask for the language to be made more like everyone else's poems. But there is something marvellous in the overall project, something Clarkean in the push to tell the narrative, and the lines are more like the metaphor-making of actual people; mixed and gawky. They are therefore much more moving, and the sense is made of a whole culture facing the new government, and everyone reacted pole-axed and a bit dumb-ass.
Phrases pop up throughout the book that bring a John Berryman, almost Olson, clump of descriptive intensity, coming close to exaggeration and dissonance, an overplus of possible ideas and puns just plonked there.
I wonder, unwound toy,
if they buried your turn-key
somewhere near you.
("UNWOUND")
dense rock pours
moonlight
clam spit and grit
turn pearl
("STILL THURSDAY")
And sometimes this rises to a more controlled Peter Reading like, and less flailing, cold savagery:

And eager to please their masters,
eager to learn, bull-headed beasties trot beside them.
Their hearts of gold, tarnished, only slightly,
by the throats they carry in their mouths.
("OPERATION STAFFHOUND")
But, note, this is the end of a poem in which actual people have become like dogs, and then the people-dogs have actual-dogs to accompany them; and this is told in a prosaic lollopping style "only slightly" rather than as Reading would have done all in fragments, all milled and jagged. "Throats they carry in their mouths" is the single great poetic line I'll take from reading this book.
It's a very unusual book, and it feels as if it pushes stylistically against the accepted styles of our age. It doesn't do this by backward-looking retreat into the marbled style of any one of this generation's forebears. Instead, it pushes forward with a story to tell, a cast of characters (often caricatures, but in the sense of Punch and Judy not of ineptitude). Its images last with one, and its world, and I could see it taken forward for screenplay adaptation, whole lines of dialogue and the overall set-up and the movement from poem to poem seamlessly transferring over. I wouldn't especially want to go back and read the whole book again, nor would I signal out one poem to show to a student. I would say, read the book, get challenged about what style you're using, and challenged about the casual violence of the modern clean-up squads of modern governments. As an outcome of reading a book, that's not a bad result.
Order your copy of The Pustoy by Philippe Blenkiron, published by Dagda Publishing here
Read More
The lover of poetry unfamiliar with the work of Vladislav Khodasevich could have no better introduction than this.  A detailed introduction by Michael Wachtel, Professor of Slavic Languages and Literature at Princeton, gives a clear cultural and historical context to one of the twentieth century's more overlooked Russian poets.  The bilingual texts are presented with clarity, and the translator's notes and preface mean that even the most English-bound reader can begin to appreciate Khodasevich's wordplay and euphony in his own language.
Daniels' purpose in translation is 'always to provide a satisfactory poem in English that conveys as much as possible of Khodasevich's intended meaning' and to judge his translation as far as I am qualified, I can say that I find his renditions of Khodasevich's words intensely satisfying.  His real love of rhyme is more than respect for the Russian voice he finds himself using.  In the couplets of 'The Way of the Sower', Daniel's balance between full rhyme and half rhyme points the sense with the lightness of a real craftsman's touch.
Khodasevich's pride in his nationality and his desire to address his people as a national poet are anything but pompous or bombastic.  The meditative, pastoral tone of 'The Way of the Sower' lends a wistfulness to his words, considering the date of its original composition: December 1917.
The path my soul will take is like the way of the grain:
it goes down to the dark – to die, and live again.
And you my native country, and her people, you
will perish and survive, after this year is through -
Because this single wisdom is given us to obey:
everything that lives shall go the seedcorn's way.
There's plenty of evidence of the path of Khodasevich's soul in this book.  He writes satirically, elegiacally, nostaglically, and then with a joyous self-satisfaction in the world around him.  He writes about writing, but only intently as his concern with the smell of fish and the feel of a monkey's palm.  He is concerned with himself, but not to the point of narcissism.  Despite his dry tone, he retains an innocence about his own self, puzzled, vulnerable and open.  He is intensely proud of his nationality and prouder still of his poetic vocation.  To read along is to travel a little of his path through a dark time for a creative spirit.
The Monkey is a display of Khodasevich's delight in the absurd realities around him and his ability to lead his reader on a provoking train of thought from antiquity to the contemporary.  The poem's terse beginnings ('It was hot.  Forests were burning.  Time | Tediously dragging.') give way to a stream of bright description and story-telling, before the poet's comparisons and reflections on the animal's friendly greeting become a rapture of hopefulness.
This animal, destitute, called up in my heart
the sweetness of a deep and ancient legend.
Yet when the monkey and her keeper travel on in the summer evening, Khodasevich returns to his matter-of-fact tone: 'That was the day of the declaration of war.'  He invites his reader to join him in wondering about the memorability of his story.  Without the ability to pinpoint the time and say, 'That was the day…', would even an emotion as intense as he relives be remembered?
I find the poet's invitation throughout this book.  His choice of subjects are not bound in historical context or foreign imagery and his concerns with his own identity, vocation and love of the world are all expressed on a personal scale.  Without a doubt, Peter Daniel's deft translations do a great of this work for the English reader.  The pitch of the lexicon he chooses lets every egregious word play a part in giving an image of the writer, and the translator's notes do a fine job of letting us share in his personal pleasure.  Daniel's desire for more of us to appreciate Khodasevich, combined with the poet's own gentle, but intense invitation to see through his eyes, bring a real generosity to this relatively small collection.
Martin Noutch is a teacher and writer based in London.  He particularly enjoys writing interactive fiction.
Vladislav Khodasevich Selected Poems is translated from the Russian by Peter Daniels and published by Angel Classics (2013) Order your copy here: www.angelclassics.com
Read More
Although Ken Head's poems have appeared widely in print magazines, online and in various chapbooks, Prospero's Bowl is a long overdue full collection. In 'Passing Through', its opening poem, Head's strengths as a poet are immediately apparent. Within the compass of a blank sonnet, a form he frequently uses to good effect, we accompany the poem's protagonist on an early morning walk. Matter of fact and self-effacing, its opening lines set the scene with a minimum of fuss: 'In the morning early he walked down / the mountainside from the old village.' Soon, however, we are drawn on as precisely observed details accumulate:
The narrow donkey track, winding serpentine
and stony across the slope of the land,
kept the glitter of the sea below dark cliffs
always in his eyes. He breathed in thyme
and the scent of fresh-cut grass where men
with scythes, who nodded quiet greetings
as he passed, had cleared the path while
he was still asleep.
Mirroring the twists and turns of the narrow path, Head's sinuous syntax is also sustained by its musicality and the rhythms of his language. Reading the poem aloud, one admires its cadences and the texture of its sounds: the contrast between long and short vowels, the repetition of sibilants and liquids. Frequently inspired by landscapes at home and abroad, many of the poems in Prospero's Bowl meditate upon mankind's relationship with the natural world; and this is a theme which gives the poet plenty of scope to indulge his philosophical bent and to create a poetry of perception that is, at times, reminiscent of the work of that fine and somewhat undervalued poet Charles Tomlinson. In 'By Haweswater' Head captures aural impressions and beautifully evokes the quality of a silence: 'That there's no voice, not even birdsong, is what he notices, / that the silence remains untouched by any of the noise / he carries with him.' In this poem, consisting of  two capacious stanzas composed in long loping lines of anything up to sixteen syllables, Head's technical skill is impressive, but even more so is a Wordsworthian reflectiveness as he moves beyond the limits of mere observation:
Years ago, he wouldn't have, but time's more powerful now
and landscapes like this, so filled with emptiness,
as mysterious as death. No compromise, they say, keep moving.
The stoicism that is hinted at here is given further expression in 'Stepping Off', a tour de force consisting of three fifteen line stanzas depicting a bleak landscape shrouded in fog, a harsh world where men have struggled to survive:
Making and mending,
hauling supplies, turning backbreaking
labour into food, must all have been grist
to the mill in the battle against failure
of belief, a deal with the gods that might make
the world more knowable, less pitilessly
harsh.
Equally impressive is 'Something to Measure against', a study of poor villagers who eke out their living in a parched landscape where water has to be rationed: 'No water now / until late afternoon and nothing to be done / but study patience'; while in 'Along Ashwell Road', where he describes some woodland, 'shawled … /  in separation like a gypsy woman', the harshness of nature is expressed in a more demotic terms: 'bleak as buggery on windy nights.'
Having from the outset shown his ability to encapsulate a landscape or scene, Head proceeds, as his collection unfolds, to widen his historical scope and geographical range. 'Iron in the Soul', a sequence of six unrhymed sonnets, has an epigraph taken from Marilynne Robinson's novel Gilead: ' History could make a stone weep'. In its opening section we are presented with a landscape in summer and the fair weather walkers who treat it with scant regard: 'At the top, they leave the litter from their picnics / and piles of dog crap inside plastic bags,' Soon, however, we find ourselves in a less familiar world where a warrior is 'testing the new grip / on his battle axe', a place where 'thick, white fog' does not merely make high ground uninviting for hikers but gives cover to raiders.  The sixth and final section is an eloquent peroration on death and transience behind which one senses, perhaps, the ghost of Ecclesiastes.
What we sweated to make
of oak, with iron and stone to bind it fast
against the years, lasted not much longer
than a leaf will feed a moth.
'Staying Power' the collection's second major sequence, consisting this time of ten sonnets, is set in Singapore's Chinatown.  Here the poet's eye roves like the lens of a photojournalist's camera. As elsewhere in the collection there is again a realization that the present is always informed by what lies behind it, that 'memories don't vanish like graffiti / under coats of paint. In '2: Shadow Play' Head evokes a past that seems colourful, almost lurid: 'opium fortunes / lost in fires, the gold, the gambling dens, young girls shipped over in boatloads / to work the brothels.' However, in '3: Chinese Whispers' we are enjoined not to romanticise the past: 'Don't let all that tourist bullshit fool you, / there are still hungry ghosts in every house.'
In this collection there are so many fine poems that in the space available one can only finish by mentioning a few more personal favourites: 'Canal: 2011' with its 'silty ghosts / of the men who died digging it'; 'Inside the Frame' a marvellously sustained meditation on an interior by Benito Barrueta'; or the skilful reportage of 'Compliance' and 'On The Road from Nam Dinh', his poem in memory of Robert Capa. Prospero's Bowl is a richly textured and deeply satisfying collection. Like the artefact for which it is named, it is finely crafted, inspired, and has deep roots in history and the natural world.
Ken Head's Prospero's Bowl is published by Oversteps Books.  2013. ISBN: 9781906856410.  £8  Buy your copy here
Read More
The strands of David Morley's thought in this collection are rich and various.  On the one hand, he makes use of his own part-Romani background, together with his knowledge of the Romani dialect in which he sometimes writes.  On the other, the poems in the book's first and third sections work to develop an insight into the real-life friendship between John Clare, the poet, and Wisdom Smith, the gypsy, material for which Morley draws from Clare's journals and emphasises in the title of the opening sonnet, "Wisdom Smith Pitches his Bender on Emmonsales Heath, 1819″. The central section of the book, by contrast, is concerned to demonstrate the validity of Clare's own belief in the creative forms of nature itself:  "I found the poems in the fields/ And only wrote them down."  There is concrete poetry here and experiments in what George Szirtes has described as "the dynamics of birdsong". These elements constitute a complex mix, the source material for which, it's probably fair to say, is not well known, a particular difficulty, I felt, with the epigraphs taken from  traditional Traveller songs and The Book of Wisdom of the Egyptians, for which no translation is offered because, as the notes make clear, "meaning may be found within the poems."  True enough.  Both in content and form, the poems work hard to be accessible, but even given the problems of translation, I should have preferred to make my own judgement as to the relationship between each epigraph and the content of the poem related to it.
The collection, sixty-four poems in all, is bookended with two italicised sonnets which seem to me to define the basis of the entire project.  In the first, "The Invisible Gift", Morley describes the way in which, he believes, Clare went about making poems:  "John Clare weaves English words into a nest/ and in the cup he stipples rhyme, like mud/ to clutch the shape of something he can hold/ but not yet hear;  and in the hollow of his hearing,/ he feathers a space with a down of verbs/ and nouns heads-up."  It is a joyous creative process, craftsmanlike and unpretentious, that is being described, although at the other end of the collection, "The Gypsy and the Poet" makes clear the agonies a compulsion to write may bring with it:  "Shades shift around me, warming their hands at my hearth./ It has rained speech-marks down the windows' pages,/ gathering a broken language in pools on their ledges/ before letting it slither into the hollows of the earth."  Morley may, perhaps, be speaking of his sense of his own predicament here, caught between cultures, struggling with the notion of belonging, although what he writes is clearly, he believes, also true for Clare.  The point, well made throughout the Wisdom Smith sonnets, is especially clear in "An Olive-Green Coat":  "John Clare longs to look the part, the part a poet can play/ – no part labourer.  He stares at a tailor's display, his money/ gone, his hands numb with the vision of further toils."
Clare's struggles with poverty, lack of education, his sense of isolation, the misery and depression these forced him to live with and his eventual decline into mental illness, are well documented and  commemorated poignantly in what may be, if not his best, then certainly his best known, most anthologized poem, "I am":  "I am – yet what I am, none cares or knows;/ My friends forsake me like a memory lost:/ I am the self-consumer of my woes -".  Morley's poems, however, in bringing together the very different mindsets of poet and gypsy, both of them, in material terms, impoverished, both living close to wild nature, but in other ways so dissimilar, create a dynamic that also highlights the love of nature, the life and energy, which readers familiar with Clare's work will know predominate throughout his writing.  "Mad" makes the point well:  "Wisdom Smith smiles into his steaming bowl: 'March Hares/ grow spooked in their bouts, so tranced by their boxing,/ you can pluck them into a sack by the wands of their ears!'/ John Clare hungers. He hugs his bowl and starts writing/ on the surface of the stew with a spoon.  'Let the hare cool/ on the night wind,' urges the Gypsy.  'Sip him but do not speak.'  "
In what Wisdom Smith teaches, or tries to teach, Clare, there is Romani lore that has been passed down through generations:  how to survive in a world that is always indifferent and may well be hostile, how to enjoy it nonetheless, how to learn who and what are trustworthy and who and what may not be.  As Smith says in "A Walk", " 'I know no more than a child, John,/ but I know what to know …' "  There are many similar examples, moments when the practical gypsy spells out the lessons of life to the brooding, insecure poet:  " 'I envy your free-roving,' John Clare sighs to Wisdom Smith./ 'To have the wide world as road and the sky and stars as your roof.'/ 'That bread in your mouth, brother,' butts in the Gypsy, 'is ours/ because I bought it with my muscles and my calluses this morning./ Man, the day gads off to market with the dawn and everything/ sells itself under the sun:  woods, trees, wildflowers and men.' "
This book, to which my one thousand words haven't begun to do justice, is the most interesting new poetry I've read this year;  it's a delight, a testament to what is important, not only in English poetry, but in life also:  " 'Poor John,' whispers the Gypsy, 'a quaking thistle would/ make you swoon.'  'Truth is, Wisdom, a thistle still could!'/ laughs the poet.  And the friends snort and drink to the night./ Clare snores beneath his blanket.  Wisdom rises from the earth./ Their fire is all there is to show.  Orion stares down on the heath./ He searches for their world with a slow sword of light."
Order your copy of The Gypsy and the Poet, published by Carcanet, here
Read More