In Letting Go, Angela Topping writes about loss, she writes about love, she writes about parents and children. She holds family relationships up to the light as if she was a jeweller examining a diamond. And on every turn, she sees something fresh, and writes something wonderful. There is a thorough examination of links forged and links broken here, an analysis of the shifting tenses of the family unit.
Angela has ten other poetry pamphlets and collections on her CV, she is what I think of as a proven poet. When I read her work I am not analysing it in the way that, thanks to years of studying, I do with some poetry, I am sitting back and enjoying the gift. I am being given something beautiful to handle and enjoy, something tactile and familiar. There's a sense of confidence and patience within the poems, a feeling of safety, a feeling that here is a poet who absolutely knows what she is doing and she is getting it right in every poem.
Poets are drawn to writing about loss. It has to be, in one form or another, the most written about topic. So it's refreshing to read poems that do not talk about death and longing in great crashing waves of grief. Angela's scalpel is far more delicate, she exhibits a real skill in writing such subtle, but incredibly moving poetry. As a reader, I don't want to be shown huge emotions that are difficult to touch, I want that huge emotion folded into something real, something I recognise, and Angela does that. She writes about what it feels like to sit on your dad's knee, how it feels to let go of that, forever, she writes about dead goldfish, and the natural reaction to the physicality of death, she writes honestly, truthfully about life. I was reminded a little of Sharon Old's truthful and unvarnished style when I read some of these poems.
Having said all that, I may be doing Angela a massive disservice by talking so much about the death theme in this collection. These poems cover a greater sense of scope than that, they are about severance in relationships and the inevitable letting go that one must go through with children, having done your job. You don't get to keep them. Family is an evolving dynamic in this collection, it is not static, and people separate and move away whatever you do.
That inevitability, the helplessness is a key theme. Poems like Father's Bronchitis, with its final lines:
He sits by the open door,
for air,
gasping like a landed carp.
There's nothing I can do except
brew up the way he likes, put away
the bike.
elicit the sort of emotional response that poetry should – the connection – we have all been helpless for someone we love at one time or another and all watched, offering small comforts while the wall of the inevitable pain creeps towards us like a glacier. These poems are about a shared knowledge of humanity; loss is part of the journey.
This is a collection that is difficult to describe in few words. It is about more than loss. It's a reminiscence, it's a photo album of emotions that make up this network of being, it is a quiet intensity. There is a complicated machine beneath the skin of motherhood, parenthood and childhood. It has connections that we feel, but find difficult to identify. The title poem; so simple, so elegant, sums it up so well, the journey and all the complicated emotional pathways beneath the practical and physical. A wheel turning towards the inevitable:
But they learn to walk away
like any other guest.
Letting Go is published by Mother's Milk Books at £8.99 in the Uk and is available from: mothersmilkbooks.com
Read More
O'Brien's debut collection War Reporter recently won the Fenton Aldeburgh Prize for best first collection. It deals with his relationship with the Pulitzer prize winning war photographer Paul Watson, exploring what drives him to take his camera into war zones, into areas of extreme poverty, famine and disease, into a world of suffering. It also examines the developing complex relationship between the poet and the photographer. It is also the mirror piece to an award winning play, The Body of An American by O'Brien. This is undoubtedly a rich and intricate collection yet I have chosen to discuss his follow up collection called Scarsdale as for me this opens up an opportunity to scrutinise what makes a life story and poetry work or sink into that special abyss kept for poems that earn the label of yet another domestic mother/father poem. Even this week I noted one judge of a national poetry competition referring to a seemingly endless arrival of poor poems about mothers. So what sort of a poem manages to side step the domestic or banal yet still tackles the family as its subject.
I have not called this piece a review because that word always makes me feel slightly uncomfortable because I am not a reviewer. I write about work that I have learnt from or have loved and I want to share it with those who care to give of their time to reading this, so clearly I am biased. That's my cards on the table before we start.
In Scarsdale O'Brien explores his own childhood and family ties and that can be a huge minefield for any poet.  Memory makes a rich stew of truth, lies, reality and illusion; from each retrieved moment we construct a world that we fight to make sense of. If a collection such as this is to avoid sentimentality, eschew a hackneyed feel of the confessional or not be threaded through with darkness in order to achieve some spurious sense of poetic gravitas it has to use the quality of the writing to hold it all together and give it true coherence for the reader. Scarsdale is a master class in how to engage with memory and make of it something honest, an individual story yet also something universal. If you want to write about your family and struggle with the complexity of memory then it would be worth reading this collection. The collection is a triptych , childhood memories in Scarsdale, his time abroad as a graduate especially in Ireland and his return and his family seen through the eyes of someone who is already moving away, pulling back and changing perspective. Scarsdale is an affluent predominantly white neighbourhood in the northern suburbs of New York City and O'Brien's family were an Irish American culturally working class family with six children. There was already something of a misfit, a friction that seemed to give the family a sense of alienation from what surrounded them before O'Brien was even born. The dice of place and character had already been thrown, as a child he entered a stage where the backdrop, the furniture had already been placed and the back story of characters had already begun to play out.
The first poem My Handwriting opens as a preface to the whole narrative arc and very much sets the tone for the collection. It ends on a quest
… Or did I dwindle myself down
to this thread on the page
so my mother would find me
and ask, What's this?
You have to earn a question mark, using it for quick effect undercuts its power if you are unable to subsequently convey to the reader an honesty in searching for an answer to that question. I think O'Brien earns his right to it.
In the first section there are poems which draw the reader into a claustrophobic world of a dysfunctional family although there is a grim sense that the family has developed its own way of surviving and adapting to its own history littered as it is with alcoholism, mental illness and the conjuring of secret absence where a child should be. Others have already commented on the theme of ghosts that seem to walk the corridors of O'Brien's writing both in War Reporter and Scarsdale. The sense I have in this collection is almost a visual one, a striving to create 'negative space', writing the space to form the subject, in this way each poem begins to shape the sense of what  family is. Even the use of the white page , the poem layout and length, free verse form and enjambment adds almost subliminally to this creation of the space and thus the object.
The House in Scarsdale is the last poem in the first section, it is a two page solid edifice in the voice of O'Brien's mother. It is an attempt to answer from her perspective the question of why? A wealthy father, an alcoholic mother, an elder brother sent to an institution 'Calvary' because of some unknown special need and never spoken of again, a brother who attempts to burn their house down, all this is what she has inherited, and to her mind explains what has been handed down. It ends
……which is why we had to
elope, which is why we have so little
money now. Or not much anyway.
Because eventually my father took pity
on us all, and bought us this house in Scarsdale
so our children at least would not suffer.
The middle section has lighter touches, although that is not to say that the collection as a whole does not have  humour or wit, from The Limerick Station:
The patois of young men
like a clamour
of silverware spilled out
across the marble floor. All knives
and forks and spoons; and nothing
to eat yet…….
The third section has more memories but this time they seem to come from another place as if the I has somehow been extracted from the we/us and there is less use of the filmic 'you' as if the distance that pronoun gives when watching yourself was no longer so necessary. The poem Truro is the one that uses the we in this section to etch an image of the family together at the beach but even then the father remains aloof
….  Our father never swam, he stood
rotund and pale atop a low dune………
If I am reading this poem correctly the you here becomes the brother who struggles with depression, the one who the father describes to O'Brien in these terms 'your brother will never marry'. After the brother arrives at the beach the poem ends with what is almost a perfect two line eulogy for him and for the whole family
at the end of the day, the step from sand to pavement
was enough to break your hearts
Estrangement between his family and O'Brien was almost inevitable, although not a consequence of this collection, and he has in interviews and at readings made no secret of that. There are enough secrets already warping the timbers of this family ship. When a child is cut loose, set adrift from the family sometimes they sink but sometimes it is the ship that flounders and the child is able to find their own land, make their own small ship with timbers not out of true. In Truro O'Brien describes himself as always preferring to look out to sea.
This collection is dark, it feels almost voyeuristic at times glimpsing into the fractured heart of a family that survives on secrets. It is certainly not to be taken as a straight factual memoir in poetry, poetry can do so much more than that. It is almost alchemic in its mix of memory, emotional truth and mythic construct, at times it has some elements of magic realism. Almost everything of emotional importance that O'Brien tries to interrogate becomes like one of the wounded raccoons being clubbed to death by his father before the family next door wakes up and is never to be spoken of. It is no wonder that O'Brien writes of an early memory of his mother hearing mice scuttling in the walls and waiting up with her with bats and brooms but falling asleep and thus 'failing' her. Perhaps the power of this collection lies in the sense that we are those mice running in the walls of the house watching and listening. It takes courage and craft to write about your family, being totally honest to your experiences and yet steering this side of exhibitionistic self-revelation. O'Brien I think achieves this level of courage and craft.
Scarsdale by Dan O'Brien is published by CB Editions.  Order your copy here
Andrea Porter's most recent collection, House of the Deaf Man, a collaboration with the contemporary artist Tom de Freston  about Goya's 'black paintings' was published in 2012  by Gatehouse Press
Read More
Women are everywhere, doing all manner of tasks in all manner of ways.  In this witty yet intensely moving collection, Cathy Bryant gives us sight of, and insight into, their many and varied lives.
The book is presented in three sections: The Lovers, The Mothers, and The Eclectic Others.  All through the collection, Bryant makes clever and expert use of various standard poetry forms, but also allows herself the luxury of free verse, whilst paying gentle homage to (among others) William Shakespeare, Sylvia Plath, Lord Byron, Alfred Lord Tennyson and William Carlos Williams.
The poems in this collection are all so good that it seems churlish to single out any individual ones.  But I was particularly struck by the neat and pithy triolet Dinner Invitation, in which a first date goes spectacularly and horribly wrong, and the deliciously wicked Sexual Positions for Those No Longer Young (a poem which proves to be every bit as intriguing as its title).  Caleb Hollow's Room holds up a mirror to the heartless injustices of the so-called "Bedroom Tax", whilst the darkly disturbing Rape Rack shows us that animals are mothers too, and can suffer just as much as their human counterparts.  Dinner Ladies is a paean of belated praise to those unsung and all-too-often unappreciated heroines of the school dining room, and The White Rose (a tribute to the Resistance heroine Sophie Scholl) is a perfect reminder that no act of sacrifice is ever wasted.
All three themes are neatly drawn together in the final poem and title poem: Look At All The Women is a masterpiece of  enjambment that has to be seen to be believed.
This is a truly wonderful book from a poet whose work has been aptly described as "Carol Ann Duffy crossed with Spike Milligan".
Order your copy of Look at all the Women from Mother's Milk Books
Read More
Undisturbed Circles is Bethany W. Pope's third full length collection and follows closely on the heels of her chapbook, The Gospel of Flies (Writing Knights Press, 2014).  It consists of six acrostic sonnet sequences, a form which Pope first unveiled in her second collection, Crown of Thorns (Oneiros Books, 2013). In their different ways the sequences gathered here are variations on the 'quest' theme and explore aspects of the poet's psychic and spiritual growth. Readers of Pope's previous collections will be familiar with some of the autobiographical details of her journey and the way that she negotiates seemingly intractable subject matter by means of highly complex metrical structures. Since Crown of Thorns, Pope has been arranging many of her poems into 'crowns' of acrostic sonnets, in which the first letters of each line and, in this collection, the final letters of each line, spell out messages that comment upon the main narrative. Add to this a regular syllabic count, a pattern of repetitions whereby one sonnet starts with the concluding line of its predecessor and, occasionally, a final sonnet composed of all the first lines of the poems that preceded it, and you will get some idea of the challenges that this poet sets herself. That she manages to make any sense at all might be considered impressive, but that she comes through with poetry that is authentic and memorable is even more so. Moreover, the way that the acrostics embody submerged narrative threads hints at the way that autobiographical details are buried and resurface in the mythologies explored in this collection.
In 'Fox Cycle' the acrostics are given extra prominence by heading up each poem by way of exposition. We learn from the outset that 'Vixen knows terrible secrets' and then follow the lines as they weave through and highlight aspects of the main narrative: 'Love of dark set her path / fleet-footed as the shadows. Bless / the journey. Paths through spider- / haunted yews yet return here: home'. As visceral and empathetic as the work of Hughes or Henry Williamson, Pope leads us through an ever-recurring cycle of procreation, birth and death:
The vixen dug into the earth, her home.
Her belly ached with glassy pain as her
expanding cervix gaped for her daughter.
Pope, of course, does not delude herself that there is no divide between her and the creature she is describing: 'And yet, / what could I know of her mind?' The notorious blood lust of a fox in a hen coop is given concise but graphic expression: 'Festival / night among the chickens.' Memorable, too, are the repeated lines that link successive sonnets:
Even the youngest of us taste our deaths.' (2/3)
Boldly the child wandered through the bone-yard. (3/4)
They courted among shrike-haunted thorn trees. (5/6)
With her second and longest sequence,'The Labyrinth', Pope returns to a more overtly autobiographical mode. However, each acrostic sonnet is further complemented by an expository prose poem and a 5 X 5, a form devised by the poet in which five lines of five syllables have the effect of a slightly compressed tanka. Within this brief compass 'real' characters from world of North Carolina morph into the mythological figures of Persephone, Bear and Vixen, while within the sonnets' main narrative there is plenty of the 'Southern Gothic' we have come to expect: a heady mix of deprivation, guilt, and fundamentalist religion in which the protagonist, 'a strange chthonic child', discovers books and the gift for poetry that leads to her eventual redemption. The discovery of love, also, has its part to play: 'the / Soft warmth of skin that loves your hard flesh.'
After the traumatic details of 'The Labyrinth', the poet turns, by way of contrast,  to the classical tradition in 'The Metamorphosis of Physis', which traces the artistic development of a friend'. An enigmatic idyll, in which the poet just about gets away with some slightly arch and Parnassian language, this is also a sequence in which she brings in some comic touches in her portrayal of the grumpy Hephaestus. Three further cycles complete the collection. 'Three-Legged Crow' is a short trickster cycle in which the matter of fact tone of the sonnets contrasts with the mythological narrative of the 5 x 5s that accompany them:
Crows have incredible intelligence.
Rarely does it take more than a few hours
Of work to find their daily food. If you
Watch them out on the lawn, their sense of fun
Frequently overwhelms them…
When the world ends, Crow
Will switch off the lights
And shut the last door.
Crow will see us all
Out into the night.
In 'The Tower' Pope's sources are medieval with echoes of Dante and a dog-headed St Christopher taken from the Byzantine tradition. Making use of an archetypal symbol previously explored by Browning and Yeats, Pope's 'dreamlike experiment in gothic drama' is a powerful blend of the visionary and the realistic:
The plants were phosphorescent. Light from small
Excrescent fungi flourished, showing the
Nearly overgrown staircase that spiralled
Clear through the centre of a room…
Finally, 'Double Helix' is a sonnet sequence exploring the evolution of man as a physical and spiritual being, a theme which is reminiscent of some of Auden's more conventionally structured sonnets. Never deflected by what is merely fashionable Bethany W. Pope is a poet who always goes where her muse takes her.  She is a formidable technician who has moments of real power.
Order your copy of Bethany W. Pope: Undisturbed Circles. from Lapwing Publications here
Read More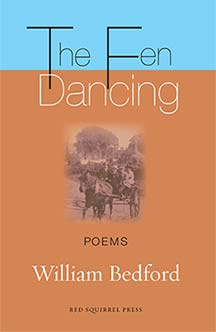 This collection made me think driving through the Fens in August. I was travelling along straight roads, under wide skies. But despite the open landscape, there was much I couldn't see. It felt like speeding through a region that was tangled and obscure. .
William Bedford grew up in a remote part of Lincolnshire. There are poems here about ancestry, history, old family stories. It was like being given an opportunity to go back and look again.
In the title poem a first person narrator hears a farrier talking about a celebration that's part of the rural calendar.
.…an evening of dancing
when you cannot tell the fen from the dance
Bedford isn't a poet who nostalgically harks back to some bygone idyll. The gathering that's being evoked took place just before hostilities broke out in 1914.
Despite an apparently straightforward alternation between the farrier's words and the listener's thoughts, the piece has an elusive, almost ghostly quality.
But who's speaking
I cannot say
The surface plainness of this writing is deceptive. William Bedford's poems are disorientating. They dance about, shifting in style and subject matter. He may have one foot in a familial, agricultural past, but the other is very much in a cosmopolitan, intellectual world. Many pieces are addressed to other writers, or are a poetic response to their work.
In 'The Railway Station at Stamford' Bedford pays homage to Edward Thomas's Adlestrop. The Sunlicht Still on Me' is inspired by Hugh MacDiarmid's elegy, 'At My Father's Grave.'
We look upon each ither noo like hills
Across a valley. I'm nae mair your son.
As writers we may see poets of the past as our artistic forbears. Yet if we wish to acknowledge –publically – our debt to the greatest of them, our own work can appear relatively slight by contrast.
But William Bedford judiciously saves the best till last. 'Midsummer Party' – a free version of a passage from Ovid's Amores – is a lustful, edgy bitchfest of a poem in which past and present are fused to magnificent effect.
That's when we'll find our moment: in the library.
   or the paternoster lifts; in the secretary's office;
gods forbid the departmental lavatories, they're a disgrace
  even for educated men. We'll just have to take our chance…
Reviewing can be a chancy business. But I'm fortunate to have received this collection.
The Fen Dancing by William Bedford is published by Red Squirrel Press, 2014 £7.99 and can be ordered here
Read More
Rosie Jackson's What the Ground Holds celebrates what endures in the lives of individuals, and in the human and natural world. Demeter and Persephone are among the guiding mythic figures, more earthy writers and artists giving flesh to the same stories. In 'Recovery Stroke,' the final lines capture the recurring and moving theme: "the greatest beauty sometimes/happens at the weakest point".
The structuring idea is acted out in the first few poems. In 'Persephone,' the daughter of Demeter escapes from the underworld, eating the pomegranate seeds that will keep her prisoner forever. In 'Persephone Blames the Dress' Persephone shows her mother sewing the dress "too tight over my eyes/till I was falling", before 'Demeter Takes Up Embroidery' has her mother finally deciding "I am done with all those seeds which breed loss." This is implicitly both a feminist and a Freudian story.
Jackson then turns to the reality of her own family, her father taking her down a coalmine that mimics the mythic underworld, while at home "Mum cooks Sunday roast". We are in the world of actual families here, the world of parents and children, lovers and the bereaved. 'My Mother's Engagement Ring' is one of Jackson's most powerful poems, the daughter scrubbing the ring she has inherited, "prodding out the years // of standing at the sink", thinking "of all the things she touched/those last forty years // and all the things – /a man, a child, a glass of wine – /she didn't". The abrupt final line makes the truth behind the mourning painfully real.
There is a restrained anguish throughout What the Ground Holds. Lovers in 'The Lovers' Exchange' find each other's stories in the scars experience has left on their bodies. A friend dies in 'What the Ground Holds', "In the time it takes me to type her poem,/the room cleared/like one of Prospero's tricks." In 'Dropped from Life,' another friend commits suicide, and Jackson imagines the souls of the dead wandering the world, longing to be back in life, "where friends and lovers have forgotten/what they promised/about always loving,/always holding hands".
Five poems based on paintings by Stanley Spencer complete the story. Spencer himself speaks in 'Of Angels and Dirt,' telling us "I am on the side of the angels and dirt." The next three poems are in Hilda's voice, 'Hilda Carline Spencer' showing the couple "Linked by our sorrow", then in 'Seated Nude' Hilda reflecting bitterly of her own nudity "There is no lust,/none of the meaty pleasure/that reddens his portraits of Patricia." In 'Hilda, Unity, and Dolls' Hilda is confined to a mental asylum, thinking of her daughter Unity, the name that "didn't work./We still split up./I split up." In the final poem, 'Resurrection,' all the "lovers, mothers, children, fathers, plumped-up wives" are brought together in the fleshy colours of Spencer's paintings, the only afterlife they will know. A fine sequence to end this marvellous collection.
Order your copy of Rosie Jackson's What the Ground Holds (Poetry Salzburg, 2014), pp.40, priced at £6 here
Read More
The Crumb Road is a debut collection from Maitreyabandhu, a Buddhist priest who was born Ian Johnson in 1961. The contemplative tone of his prefatory lyric, 'This', hints at the journey he has made:
There's no law against my listening
to this thrush behind the barn,
the song so loud it echoes like a bell,
then it's further off beyond the lawn.
Whatever there is, there's this as well.
It's a poem which, in its more modest way,  might usefully be compared with the opening movement of Eliot's Burnt Norton and one in which Maitreyabandhu seems to be reaching towards transcendence, 'even though we build a common hell'. The collection proper is then divided into three sections. In the first of which he evokes family memories and, in particular, creates a memorable portrait of his father.  'Burial' is the first of several poems in which we find the poet's father digging objects out of the earth. Elsewhere we see him digging up old bottles or copper wire, but here he accidentally turns up some human remains. Written in couplets, the poem is concise and effective, but finds room for some humour:' He brought / the second skull indoors with clods of earth // still hanging from its jowl and stood it on / the Stratford Herald while my mother protested.' The father's obsession with digging becomes, as in Heaney's signature poem, emblematic of the son's later, and more complex, attempt to unearth the past:
But that isn't right,
I've made it up or rather I've mistaken
my father's story for the thing itself:
the smell, the wormy skull, the policeman
tall, bright-buttoned, standing by the Aga.
This is then followed by a dozen poems that focus on various childhood memories. The accumulation of detail in 'The Coat Cupboard' re-invents and goes beyond a small child's perspective on a place that seemed strange, if not quite magical: 'You don't push your way through to discover a landscape  / where beavers can talk.'  As in 'Burial', this is a poem about a specific memory, but then comes to symbolize the actual process of trying to remember: 'You find a set of keys / without their brightness or warmth of handling.' The poem concludes on a note of Proustian recognition, when the poet discovers that his grandmother's pink lipstick 'is still shaped to the curve of her lip.' 'Bottle Digging' and 'Shark Fishing' are further character studies of the poet's father. In the former one senses the adult's wisdom as he stands back to let his son to learn from experience. In the latter, appalled by a fisherman's cruelty, 'my father paid the thirty pounds / we owed but wouldn't shake the skipper's hand'. In 'Hammers' he conveys the obsessiveness of a man forever on the lookout for bargain tools and the subsequent grief of those tasked with having to dispose of them.
The work collected in the second section is less circumstantially autobiographical and more stylistically varied. With its twenty eight poems it might well have been advisable to hold some of them back for a subsequent collection and thus give more prominence to this volume's two autobiographical sections. 'Still Life with Geranium' is the first of several poems that strive to create an abstract space: 'The quiet / inside myself / is of a room inside a room.' In 'Place' the poet's goal seems just beyond him: 'You're in a room / with one high window // your step ladder doesn't reach.' Throughout these poems the images tend to be more elemental and the landscapes more visionary than in those that precede them.  In 'Pine Branch' the poet evokes Cezanne and suggests that the painter and the contemplative share a common approach
Cezanne would have understood the problem
of a pine branch, its relation to the sky
in the early morning with just a sickle moon
and the sun not yet up among the rocks.
This section has four effective prose poems and a mesmerizing narrative poem, 'Rangiatea', which, somewhat in the manner of a classical epyllion, describes a voyage between dream and reality. Further highlights are 'Visitation', 'The Man', in which contemplation is undermined by a longing for community, and 'At the Station', a description of two gay men:
One wraps his arms around the other
from behind. He can feel his belly's breath
against his back. They stay like this
for quite some time, like figures made of clay
still warm from the hand that fashioned them.
Finally, the collection is brought to a close with STEPHEN, a sequence of twenty one  poems exploring the troubled relationship between two adolescent boys and its tragic conclusion. The candour, tact and poignancy of this sequence are quite remarkable. Shot through with moments of guilt, awkwardness and lyrical intensity, its fragmentary, non-linear, handling of events creates a brooding sense of obsession, as the two boys try to make sense of their feelings. Set in the 1970s, Maitreyabandhu's re-creation of that less than tolerant era is utterly convincing, as is the mythologized landscape of Crockett's Lane, Fletcher's Hole and Lodder's Field. From the outset there is an atmosphere of secrecy and denial: 'Two boys once walked across an iron bridge… / They didn't speak / or catch each other's eye.' There is also an authentic sense of the mundane, as the two boys explore their feeling towards each other, and how they feel about themselves, across a landscape of allotments, dens, and railway tracks. It's an ordinariness that helps to bring into sharp focus their drama of gaucheness and desire. The tension is well conveyed in 'The Cutting' where, after some twenty lines of leisurely description, there is a sudden change of key:
I managed to lift his shirt and touch his side,
but he was scared and so was I. And anyway
the train didn't stop; we just stood there
on the platform while she thundered past.
In 'The Brook' water becomes a symbol for repressed sexuality: 'I was looking // to where the silted leaves might show / a trout or stickleback, a sluggish / weight of water.' In 'The Garden', racked by guilt, the poet creates a poisoned paradise in which he finds room for potato drills, piles of scrap and a wrecked Austin Princess; while 'The Mop' is a brilliant evocation of a travelling fair as detailed as any of Larkin's set pieces. It finishes on a note of matter of fact tragedy:
He'd been waiting to do something with his life
when someone screamed as a woman we both knew
turned right and knocked him off his bike.
Taking his title from the tale of Hansel and Gretel, Maitreyabandhu uses the image of 'the crumb road' to symbolize the vulnerable trail he has followed back in time. 'It didn't matter now. It was long ago', the poet says in 'Two Boys. The reader, however, will be inclined to disagree as he travels back with the poet to share each shimmering 'spot of time'.
Terry Cree is a writer and artist based in Hampshire. Fruit, his first collection of poetry, contains a sixteen page 'triptych' inspired by the work of the American photographer, Ralph Eugene Meatyard alongside another dozen poems that vary in length from brief lyrics to lengthier meditations. Cree has supplied the artwork for the cover and a sequence of pencil drawings to accompany his poems. At a time when poetry collections are frequently too long and seem careless of their overall structure, it is a relief to fine a volume that is so meticulously assembled. A similar concern with 'composition' also informs the individual poems. In 'The Consolation of Walls' Cree works through existential uncertainties with the elegance of a geometrical paradigm and with an ironic nod, perhaps, toward the imprisoned philosopher Boethius:
There is a wall inside me against which
I have been kicking a small rubber ball
For years
Sometimes it rolls back along the ground.
Sometimes it bounces back like feelings plotted
On a graph,
That old oscillation of up and down…
That ball can rest inside me like a stone,
As hard and rubbery as death, unkicked,
Unknown.
However, to start at the beginning with 'Josephine Jones', Cree's enigmatic opening poem, we will see that the metaphysical obsessions that shape Cree's work do not lead to predictability of approach or any narrowing of range. In this poem we seem at first to be on familiar territory: 'In a tent of clouds / I am six years old / in Mercer's Field…' Soon, however, as the opening sentence slowly unwinds, details merge and the narrative becomes dreamlike. Swept along by the poem's riddling and incantatory rhythms, we learn little beyond the fact that Jennifer Jones was five years old and may have died: 'Josephine had flowers on her heart.'  More certain, is the fact that the poem's protagonist is haunted by his memory of her: 'She was the dark cleft / I will carry with me/ till the raging sun / falls out of the sky.' What is so impressive about this piece is that it manages to achieve both depth and resonance from what, on the face of it, is very simple language.
Absorbing too are 'Weir Gate' and 'Sea Song'. The former is an unflinching narrative about an act of childhood violence: 'There were three kids / and two were friends / and one was no friend / to either but, abject in / his hope, just tagged along;' while the latter is a study of isolation in which a protagonist stares out to sea and contemplates the nature of waves: 'he wonders / if a wave can have identity // whether one wave is entity / unto itself or whether waves // are merely gestures of the sea.' Observation, however, does not make sense of the world, so that the waves can only reinforce our sense of the man's emptiness: 'their sighing / signals nothing to our lonely / man except the limits of love, //  his own heartfelt perimeter.'
Transience, separation, and the limits of what is knowable: these are also themes explored in Cree's meditation up the 'family albums' of Ralph Eugene Meatyard. In this poem, Cree's technical skill is again much in evidence, as he adapts a form put to brilliant use by Thom Gunn in the 1960s. 'Meatyard Triptych' is composed in rhyming quatrains, each line of which is based on a count of eight syllables, rather than four metrical feet. It's a form that gives both backbone and flexibility. In the first panel of his 'triptych' Cree concentrates upon the photographer's studies of his own children. Attempting to get some kind of purchase upon the mind of a child, he explores the distance between the artist and his subject: 'What does it mean / When a child by its yawn or lean / into another seems to know // More than we imagine they do?' In the second panel the photographer's wife, Madelyn comes to the fore and the poet homes in on the concept of 'the couple' with side glances toward The Arnolfini Portrait and Grant Wood's American Gothic. In the final section poet and subject seem to merge:
Meatyard looks down on us,
And, in doing so, looks by chance
Like me. Only the circumstance
Of death, it seems to me, sets us
Apart. He has that doubtful look
I cast upon my own image
Whenever I'm stopped on a ridge
On my own, knowing what it took
To get there.
Cree's 'Meatyard Triptych' is beautifully sustained but challenging. It is the most interesting consideration of the nature of 'art and reality' that I have read since the early work of Charles Tomlinson.
Alongside poems that highlight Cree's ability to write at length, Fruit  also contains a selection of shorter poems, each of which seems sui generis, as if the poet were determined to constantly renew his practice. In 'Flat Calm' he reinvents the traditional 'ubi sunt' theme: 'The haberdashers, milliners and mercers / are vanished like the nap beneath their hands'. 'Wardrobes' captures the actuality of an object and illustrates the proposition that sometimes we have to adapt our lives to our furniture. 'Blind Man's Buff' is a short but moving poem about some young people who are 'attractive, bright, and utterly broken'. Terry Cree's Fruit is a stunning debut from a poet who knows that, ultimately, there are no answers to the big questions and that words are all we have: 'Words that meant nothing / Then and nothing much / now.' However, in this poet's hands they have a music of their own and point towards depths beyond their burnished clarity.
Order your copy of Maitreyabandhu: The Crumb Road from Bloodaxe Books here
Order your copy of Terry Cree: Fruit: Two Rivers here
Read More