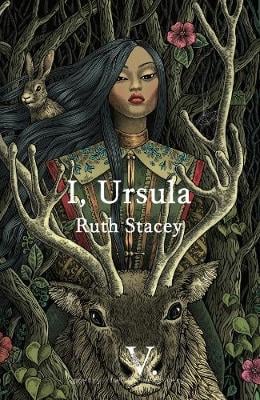 Ernest Hemingway once said "There is nothing to writing. All you do is sit down at a typewriter and bleed". This quote comes to mind when reading I Ursula which comes across like it was written with a fluid and clear idea of what Ruth Stacey wanted to say about the frailties and strength of enduring mental health and life experiences. The cover shows us an astute woman riding a stag and garlanded in all her finery amongst the thick of the woods which already gives the impression of a dark fairy-tale and it is this conjuring that does not disappoint with an exceptional book of quality poems. The opening couple of poems are a caution that woman is a deep river and if you choose to explore her then this like an abyss will stare back at you and could ruin or complete you depending on what you value from a woman. Stacey is a master of deceptive language that haunts you by its lullaby and paradigm style. Before you know it, you are seduced and involved into the play of words and metaphors. The primal and controlled human are at conflict throughout the opening of this book:
Excerpt from Rose Red
"Bears are not good fuck-buddies,
They get possessive, Casual is not
Part of their lexicon, relying on growls,
gruff prose hurled into the neck.
You can hardly make out the words
Because bears are distracting
When they are inside you
At around a third way in the shift changes in a gut puncher of a poem titled Iseult Gonne continued later in Woodlander. The theme of still birth is a subject that is rarely mastered to devastating effect by some of the bravest poets in European writing today (nod to Wendy Pratt and Museum Pieces et al). The sparseness and brevity of the poem Iseult Gonne leaves the most maudlin conclusions to your imagination but in the montage of triolets look at this definition of loss and you will feel as you read the lingering desolation of life lost that was carried deep:
From Iseult Gonne
The candle is lit
and blown out
lit and blown out.
You cannot create a life
out of a dead baby –
you just can't do that.
The Woodlander in common folklore is the heroic figure but the heroic figure here is enduring any loss by not overcoming it but accepting it is part of you as much as any internal organ except this loss was uninvited. Stacey intersperses styles here from loose prose to tight configurations of 3x3x3x3 or 6x6x6x6 and the beats act like hooves roaming the woodland narrative she conceives and you are not going to find your way out easy because I took from this book that we are as deep as a forest, as Ursula. From the sinewy arms of the startled trees to the wet mossy purifying filtered words and poems that flow from one page to the next this is a book that you can return to and read whole or partially as themed or an un-themed piece. It is possibly Ruth Stacey's best work since Queen Jewel Mistress and is one of those books you root will do well. A sumptuous piece of work from a writer that is going from strength to strength.
Excerpt from The Woodlander:
A stillborn baby must be buried too;
any tree may mark the grave he thought best.
To not know makes any wooded view
a cold graveyard instead of a forest.
With five collections of poetry focusing on conflict Antony Owen is a well respected writer known for investigative poetry which took him to Hiroshima in 2015 to interview atomic bomb survivors. His subsequent collection, The Nagasaki Elder (V.Press) was shortlisted for a Ted Hughes Award in 2017.  His  sixth collection The Unknown Civilian is published by KFS.
I, Ursula by Ruth Stacey is published by V Press and available here: https://vpresspoetry.blogspot.com/p/i-ursula.html
Read More
Nwuguru Chidiebere Sullivan's poem 'The Anatomy of Boys' spoke to so many, and it is for this reason that this 'fascinating' 'beautiful' and 'inspiring' poem is the IS&T Pick of the month for September 2020. Huge congratulations to him!
Nwuguru is a budding writer from the Ebonyi State of Nigeria. He writes autobiographically about life, the boy-child, and about multiple aspects of the ebbing African culture. He is a penultimate Medical Laboratory Science student with lots of unpublished works to his credit. His works have been published at Quills, Ace World, Trouvaille Review, Ducor Review, The Lake, LiteLitOne, Inverse Journal, The SprinNG, Journal Nine, e.t.c. and he has also contributed to several anthologies.
He was the winner of the 2018 FUNAI Crew Literary Contest.
The Anatomy of Boys
Boys are cold birds
Boys are carrying broken wings
Boys are burning oceans
Boys are drizzling ashes
Boys are not the thorny rose
Boys are petals of hibiscus
Boys are rainbow
Boys are not cloaks for a deluge
Boys are glass prisms
Boys are bends stifling grief
Boys are untapped palm trees
Boys are cask for unharvested tears
Boys are cameras
Boys are libraries of cracks
Boys are dustbin
Boys are cavity for filthy blames
Boys are suns
Boys are shining in isolation without stars.
*********
Voters' comments included:
I could feel every word, every line and every stanza of the poem, as it had an usual way of describing me
I love the poem's construction, how it reminds me of what it means to be male— and what it should never mean.
lots of surprising images
I liked the vigour of it 🙂
It talks about the boy child and I can relate so well with every line of the poem.
The poem appeals to me
The anatomy of boys is a great metaphor depicting the future.
The lyrics of the poem are so deep but have captivating meaning which is very true.
I love the flow of the poem.
The poet was so explicit in his writing. I love the idea.
I love the simplicity of the poem and the way it carries the plight of the boy-child with scintillating metaphors
Simple, touching and reflective
Honestly his poem have really impact positive life unto me
His poem seems to be the best among all. Telling us the hiding things we don't understand
Gives us an insight of the thought
He is passionate about what he does
Read More
Ice aging
Look
sometimes
I just want to lick
ice cubes
and eat jam
straight from the jar
and not even bother
if the toast is too burnt
we all deserve to be
seen
for what we could
have been
but this is not about
us—
Look
I'm just saying
wouldn't it be nice
to stuff ourselves full
of cake mix
and unwashed grapes
and pretend
the last ice age
never happened
so that when we go
outside
the world looks as rugged
as it feels when I hold it
in my mouth
unable to swallow
it
down.
Carl Alexandersson (he/him) is a queer writer and performance poet. He is currently pursuing his undergraduate degree in English Language and Literature at the University of Edinburgh, Scotland. His work has been published in Impossible Archetype, Capsule Stories, Nightingale & Sparrow, and more.
Read More
The Incident
The general mood was optimistic
precisely because everything
had been prepared
to go wrong,
and when the performance
was unexpectedly beset
by several predictable problems,
the general mood became
even more optimistic.
The incident itself
is not unmentionable
but may unnecessarily
be treated as such.
The individual at the center of the incident —
a tatterdemalion if ever there was one —
had been informed that attendance
at events of no relevance to him
would be compulsory;
when he agreed to this
his objections were warmly welcomed
with open suspicion.
It seems he was a very fine human being
whose malice and cruelty
will be missed by all,
although several people,
albeit a minority of those absent from his life,
said they had not only liked
but also loved him.
When the tatterdemalion was informed of this,
he immediately arranged for his life
to become imaginary again.
Tim Murphy is the author of two chapbooks, Art Is the Answer (Yavanika Press, 2019) and The Cacti Do Not Move (SurVision Books, 2019). 
Read More

You Were
And she could hear the highway breathing
And she could see a nearby factory
She's making sure she is not dreaming
(Talking Heads, She Was)
Out past the peeling smokestacks
In a blurring frame of mind
You healed me, in the name of
A dab of smeared dawn
Burst open lock on the gate
We haven't seen the sky
A lake filled in where the mine
Coal water dead with trout
There's no more full moon glint
You dreamed all these palazzi
Sheet metal barrel tiles
A no exit vanishing point
And now we scuttle sideways
Lost in the debris field
Our hair turned to chromium
Too much rust and busted glass
I don't see you / you don't see me
It's an iron playpen for ghosts
Hey-hey
Richard Manly Heiman
lives in the pines of the Sierra Nevada. He works as an English teacher and writes when the kids are at recess. Richard has been published by Rattle, Into the Void, Spiritus (Johns Hopkins U.), and elsewhere. His URL is 
poetrick.com
.
Read More
Otter in shadows
You can see where he is, little seeker,
by the sparkle of bubbles escaping from his fur,
a surface shiver fizzing among bladderwrack.
When he starts rummaging in nests on the skerry,
the heron flaps off,
a flag signalling end of race.
We watch death happen.
Terns squeal unceasingly,
lift like ash off a burned-out fire.
Mandy Haggith lives in Assynt, Scotland, and teaches Literature and Creative Writing at the University of the Highlands and Islands. Her books include four poetry collections, a tree poetry anthology, a non-fiction book about paper and five novels. www.mandyhaggith.net
Read More
Each night
each night I lie in bed, spurred and splintered,
to tape your breath, kiss the guinea pig
that died in my keep, hair flick, to
flick you alive
each night I marry
a replica of god's first limb
and break his fingers
one by one
each night I dote on a
history of bacteria
and a
bonfire of lungs
now that it's over I think
that everything was right
sending one eve after another
to dam the days
and bloat like gentle bodies
in a duck pond
desired but unkept
civil but without title
time and useless words flood the orange grove
we could not sell so
stave the price of your high season
through my bad mouth
jesus sits up, raises a paw
it's just enough
if I once thought that love memorized the years
then I grew time like an apple
and still do –
smiling at trees
on account of their age
I record it if I can –
in a spray of words,
I try to acknowledge what it is
I've always wanted
I will keep recording it,
when i am able
you won't be there,
but you would've liked the scene
and me in it
Danielle Todd is a poet and short story writer from New Zealand. Her work has appeared in titles such as A Fine Line (NZ Poetry Society), Oscen, Join the Dots, and Little Stone Journal. She is currently working on her first poetry collection from France.
Read More